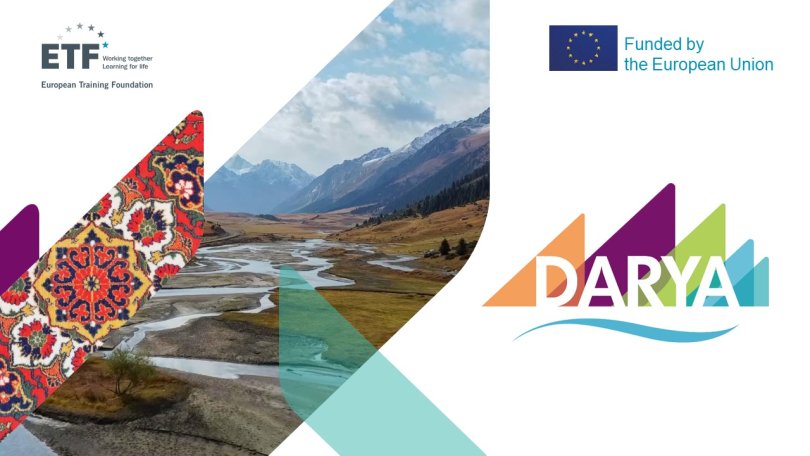 This page is also available in
DARYA (Dialogue and Action for Resourceful Youth in Central Asia) is the first EU-funded regional project to focus entirely on measures that support inclusive and labour market relevant skills development opportunities for young people in Central Asia. It is implemented by the European Training Foundation (ETF).
Starting in June 2022, DARYA will be active over the next five years in Kazakhstan, Kyrgyzstan, Tajikistan, Turkmenistan and Uzbekistan. DARYA will contribute to the post-COVID recovery in Central Asia by:
Fostering the quality and inclusiveness of education, training and employment systems in Central Asia

Fostering participatory and inclusive dialogue and cooperation mechanisms on skills development at national and regional level
Since the start of DARYA in June 2022, an intensive consultation process has been initiated with key stakeholders in the five countries to identify country priorities for their participation in DARYA. The launch conference will bring together key stakeholders from the five countries and the EU in order to:
Share information about country priorities in DARYA in relation to their main human capital development reforms

Confirm areas for multi-country and regional priorities for DARYA

Initiate the work of the three DARYA thematic modules:

Forward looking skills development through better evidence and analysis of education and training outcomes and skills needs

Stakeholder driven flexible and permeable approaches to qualifications at national and regional level that allow equal opportunity for all

Increased use of flexible and inclusive teaching and learning approaches, based on learning outcomes and relevant for the labour market

Support networking among participants from the five countries

Initiate peer learning among Central Asian countries and Central Asian countries and EU Member States
The plenary session on Day 1, 22 November (14:00 - 17:15 Astana time) with the participation of the EU Ambassador in Kazakhstan and vice-ministers of education and labour will be streamed.