11th ACQF Peer Learning Webinar
African Continental Qualifications Framework Project (ACQF)
Capacity development programme 2021
Peer Learning Webinars 2021 (EN-FR-PT)
Webinaires de partage d'expérience par les pairs (ANG-FR-PT)
Webinários de partilha de experiências entre pares (ING-FR-PT)
Join the ACQF Peer Learning Webinar (PLW) on 23 September 2021




Soyez les Bienvenu(e)s aux Webinaire du 23 Septembre 2021




Sejam benvindo(a)s aos Webinar de 23 Setembro 2021
ACQF Peer Learning Webinar (PLW) of 23 September 2021
10.00-12.30 GMT
Visit the webinar webpage and the Youtube channel of the ACQF PLW programme
PLW nº 11, on Thursday, 23/09/2021, 10.00.12.30 GMT

-

thematic discussions on three main topics: a) Learning outcomes approach in different contexts of learning and qualifications; b) regional qualifications frameworks: objectives, referencing, levels and descriptors; c) ACQF development: towards the conceptual and technical design – levels and descriptors.

Access to meeting

:

https://us06web.zoom.us/j/94514892694?pwd=VGFkMXQ0cVQ1WFB2VkRMeGtjMU1ndz09
Meeting ID: 945 1489 2694 - Passcode: 449556
PLW nº 11, jeudi, 23/09/2021, 10.00.12.30 GMT

- discussions thématiques sur trois thèmes principaux: a) l'approche par compétences dans différents contextes d'apprentissage et de certifications; b) cadres régionaux de certification: objectifs, référencement, niveaux et descripteurs; c) Développement de l'ACQF : vers la conception conceptuelle et technique – niveaux et descripteurs.

Accès à la réunion

:

https://us06web.zoom.us/j/94514892694?pwd=VGFkMXQ0cVQ1WFB2VkRMeGtjMU1ndz09
Meeting ID: 945 1489 2694 - Passcode: 449556
PLW nº 11, Quinta-feira, 23/09/2021, 10.00.12.30 GMT

- discussões temáticas sobre três tópicos principais: a) Abordagem por competências em diferentes contextos de aprendizagem e qualificações; b) Quadros de qualificações regionais: objetivos, referenciação, níveis e descritores; c) Desenvolvimento do ACQF: preparando o desenho conceptual e técnico – níveis do ACQF e descritores.
Meeting ID: 945 1489 2694 - Passcode: 449556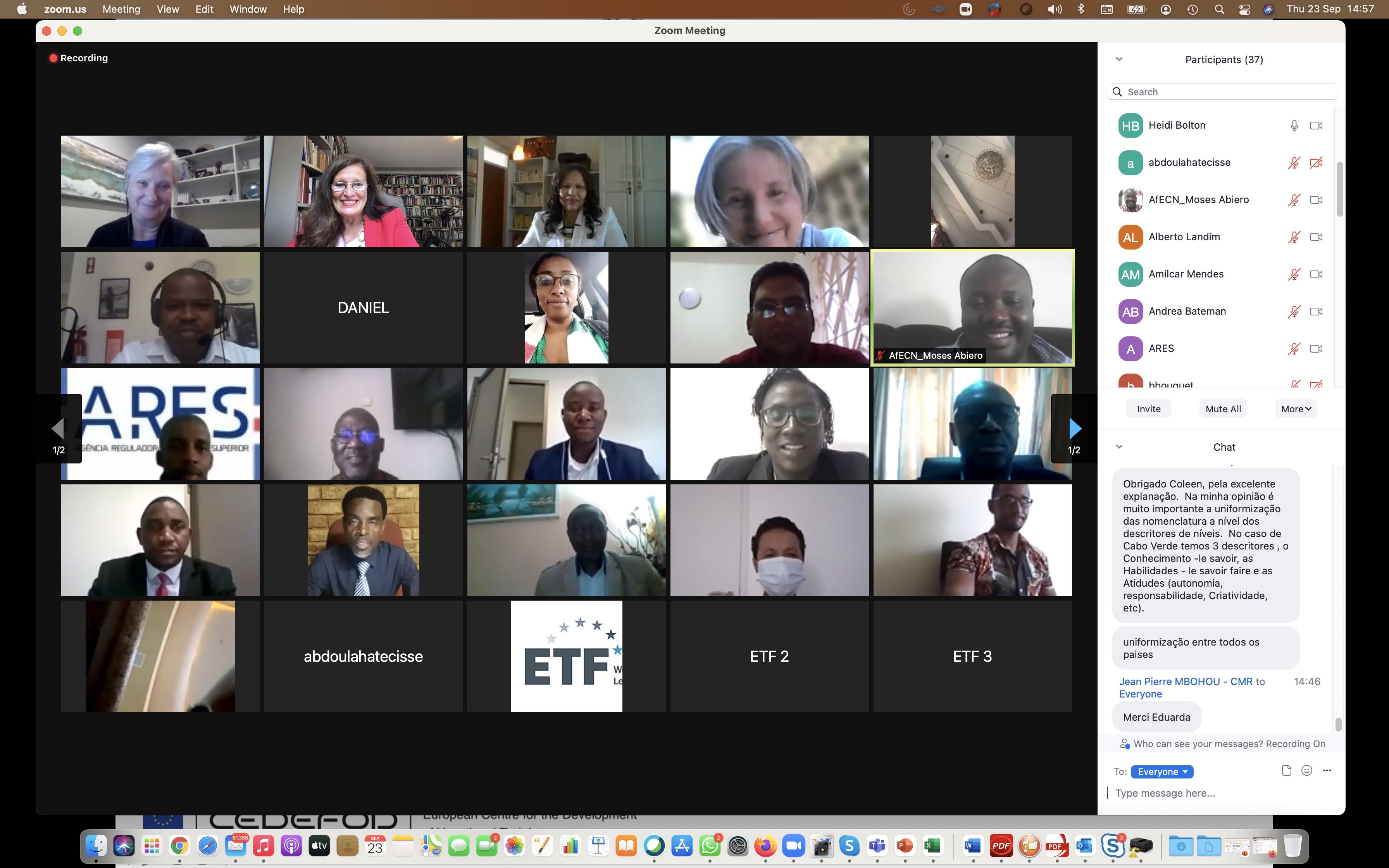 Agenda / Programme / Programa - ACQF Peer Leaning Webinar nº 11
23/09/2021, 10.00-12.30 GMT
Time

Theme

Speaker

10.00-10.15

Introduction and content overview

Introduction et aperçu des contenus

Introdução e sumário dos conteúdos principais

AUC

ACQF coordinator

10.15-10.45

Learning outcomes approach: from concepts to application in key contexts of learning, and qualifications frameworks

Approche par compétences : applications dans les différents contextes d'apprentissage et cadres de certifications

Abordagem por competências : aplicação em diferentes contexto de aprendizagem e quadros de qualificações.

Jens Bjornavold, Cedefop

10.45-11.15

Regional qualifications frameworks (RQF): objectives, referencing, levels. 1st presentation of "Guidance paper on RQFs".

Cadres régionaux de certifications (RQF) : objectifs, référencement, niveaux. Présentation du rapport "Guidance paper on RQFs".

Quadros regionais de qualificações (RQF): objetivos, níveis, referênciação. Apresentação do relatório "Guidance paper on RQFs"

Andrea Bateman

International expert

11.15-11.25

Q&A, Questions, Discussão

 

11.25-12.05

Towards technical design of the ACQF: levels and level descriptors.

Vers la construction conceptuelle et technique de l'ACQF : niveaux et descripteurs de niveau

Construção conceptual e técnica do ACQF: níveis e descritores de nível

Coleen Jaftha, ACQF expert

12.05-12.25

Discussion, comments. Discussion, commentaires. Discussão e comentários.

Facilitation : ACQF

12.25-12.30

Wrap-up, closure. Sommaire et clôture. Sumário e fecho.

 
More information on previous ACQF webinars and ACQF Mapping Study
Learn more

- visit the

webpage of ACQF 2020 Peer Learning Webinars

! 22 cases from Africa, Asia and Europe shared and discussed in 2020 in our ACQF community.

ACQF Mapping study reports

- learn more on the state-of-play, and new developments of African Qualifications Frameworks (national and regional) -

visit the

Librar

y

:

a collection of 13 national reports, 3 regional and a comprehensive continental report (

in

3 versions, including synthesis and infographic).
En savoir plus

- visitez la

page web des

webinaires d'apprentissage par les pairs ACQF 2020

! 22 cas d'Afrique, d'Asie et d'Europe partagés et discutés en 2020 dans notre communauté ACQF.

Rapports de l'étude cartographique de l'ACQF

- en savoir plus sur l'état des lieux et les nouveaux développements des cadres de qualifications africains (nationaux et régionaux) –

visitez le repértoire

:

une collection

de 13 rapports nationaux, 3 régionaux et un rapport continental exhaustif (en 3 versions, y compris la synthèse et l'infographie).
Saiba mais

- visite a

página web do

ACQF 2020 Peer Learning Webinars

! 22 casos de África, Ásia e Europa foram apresentados e discutidos em 2020 na nossa comunidade ACQF.

Os relatórios do estudo de mapeamento do ACQF

- saiba mais sobre a situação atual e os novos desenvolvimentos dos Quadros Africanos de Qualificações (nacionais e regionais) -

visite o

repertório

com uma coleção

de 13 relatórios nacionais, 3 regionais e um relatório continental abrangente (3 versões, incluindo síntese e infográfico).
Contact: Eduarda Castel-Branco, ecb@etf.europa.eu