Recognising skills, building a future for Ukrainian refugees
Last year Iryna Sopilniak fled the war in Ukraine for the safety of Berlin. Sopilniak said she felt a bit like a lost kid in a big unknown city in a foreign country. 'I was worried, and for a few months I didn't know what to do, or what to think about the future,' said Sopilniak. Then a fellow Ukrainian refugee suggested she check out the European Training Foundation's (ETF) Ukrainian Resource Hub.
The Hub has a lot of links, for finding a job, language classes and getting qualifications recognised. I was like wow, this is like finding a treasure! The information on the Hub helped me build my strategy, and feel more confident by knowing what to do in different cases,' she said.
Sopilniak is now taking free German classes. 'Knowing the language opens up many educational opportunities to improve your skills or study a new specialism,' she said.
Supporting Ukrainian refugees
As an EU agency involved in education, training and labour market systems, the ETF established the Hub to support the 8 million Ukrainian refugees in the EU to access education and training and find work, and for EU organisations and companies to understand Ukraine's education and training system and qualifications.
So far, the Hub, which is in both Ukrainian and English, has helped more than 18,000 Ukrainians to better integrate into their host country through learning the language, further education or training. And under the EU Talent Pool Pilot initiative, facilitated through EURES (European Employment Service), Ukrainians can create a CV and show their skills to more than 4,000 validated and registered employers and members and partners of EURES.
An abundance of resources
One of the Hub's success stories is Iryna Yuryeva, who fled Ukraine in March 2022, in the immediate aftermath of the Russian invasion. Yuryeva was seeking resources and was directed towards the Hub. Soon she began working as the Hub's administrator, which fulfilled an ambition sparked in the years before the war.
'I had thought of the necessity of a Hub that broadens educational opportunities for young Ukrainians abroad. This opportunity to do what I had always wanted came through circumstances no one could predict – the invasion – and I was asked to see what could be done with the Hub and add my perspective,' she said. 'The Hub is very well structured, covering all the needs of someone in a foreign country, answering questions and helping Ukrainians live a normal life and to integrate.'
Yuryeva emphasised that while the Hub has an abundance of resources, users need to understand it is only a starting point on their journey.
'The Hub is a guide, it cannot cover all of a person's demands. This is especially relevant as one of the Hub's functions is that users can ask questions about qualifications or education, to get initial knowledge about how to proceed, and who to contact,' she said.
Iryna Yuryeva
Recognising qualifications
One of the most important, and used, parts of the Hub is the recognition of qualifications. 'This is always a burning issue for people who leave Ukraine as they cannot imagine that their diploma doesn't automatically give them the immediate right to work in other countries,' said Yuryeva.
The Hub helps connect refugees to the relevant organisations that can assist in translating and verifying qualifications. The ETF, meanwhile, has translated the Europass tool into Ukrainian, accessible on the Hub.
'Europass is a tool for Ukrainian students and young people to help them prepare their CVs for their journey into the EU,' she said.
Europass has a filter function for educational programmes by specialism, profession and location. 'We also link Ukrainian users to specific programmes which are in Ukrainian, or provide support to Ukrainians if they want to enter the programme,' said Yuryeva.
The Hub also provides links to technical and vocational education and training (TVET) programmes, as well as for upskilling and reskilling.
'TVET helps a lot of Ukrainians to find their way. And by learning new technologies and skills, this will be useful for the reconstruction of Ukraine,' she said.
The Hub's reach
The Hub's users proportionally reflect the distribution of refugees through the EU, being predominantly in Germany (7,800), Poland (1,044) and Italy (976), as well as from Ukraine itself and Russia (861). Visitors to the Hub also come from outside the EU, notably the UK and the USA. Refugees that fled to Finland have found the Hub to be of great use.
'I found useful links concerning education, and where I should start. It also enabled me to find sources to learn Finnish and start socialising here. It has been really good to get new knowledge and to be motivated,' said Valentyna Demianenko.
She intends to use the Hub again when she needs to look for a new job in the future.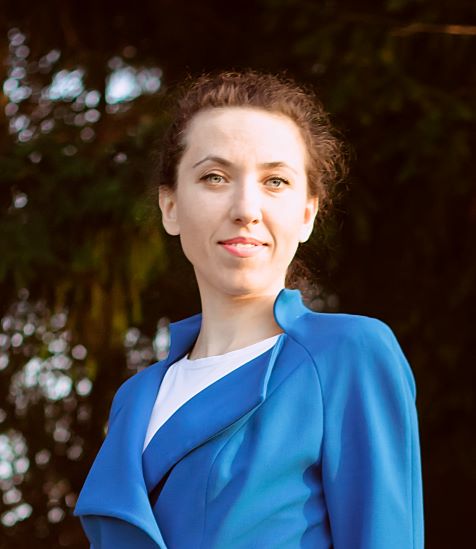 Valentyna Demianenko
However, Demianenko thinks that Finland could be better featured in the Hub as content is more focused on other parts of the EU.
Sopilniak thinks that given the amount of information on the Hub, the user experience could be made a bit easier, such as using more icons. Yuryeva said there is a plan to develop the website further as they better understand how people use the information and the Hub, with the first year having focused on establishing the platform and collecting the relevant information to assist refugees.
'We want feedback from users, so we plan to talk to more people to find out what has been useful or what needs to change. It is a great resource that needs to be shared more widely to have more success stories,' said Yuryeva.