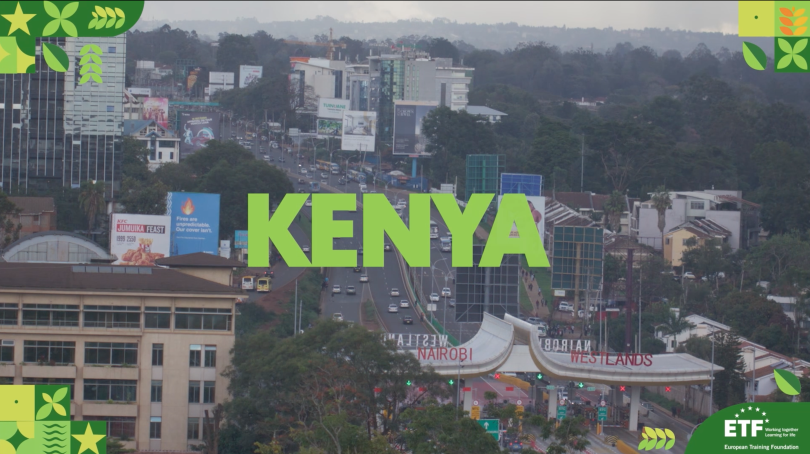 Green Skills Award 2023 finalist: Kenya - E-waste management
From trash to treasure – how VET schools in Kenya are tackling e-waste processing and management with the backing of a consortium of EU development agencies
A pioneering new training programme in vocational training schools in Kenya is helping address electronic waste management – and creating employment opportunities in safer, healthier processing facilities.
The project, "Promoting Demand-Driven Skills in E-waste Management and Recycling in Kenya", is part of a slew of projects supporting in Sub-Saharan Africa, and South and Latin America by VET Toolbox, an EU and German-government funded consortium of bilateral development agencies.
The success of the project – which had led to an innovative National Industrial Training Authority-approved curriculum in e-waste management and processing at five training institutions in Kenya, and the training of 400 young people – has made it one of ten finalists in the European Training Foundation's Green Skills Awards 2023.
VET Toolbox, a partnership programme implemented by Enabel, Expertise France, LuxDev, GIZ, and the British Council, is now focused on delivering opportunity-driven actions in Sub-Saharan African countries. These actions aim to enhance the local benefits of European investments by improving the availability of skilled manpower, maximising the employment impact.
The Kenyan project is, says GIZ project manager Tracy Weru, a perfect fit for a strategy that supports partner countries in realising their ambitions via the use of labour market intelligence, stimulating private sector engagement, and ensuring inclusiveness of disadvantaged and vulnerable groups.
"Kenya generates 51.3 metric tons of e-waste every year, with only 1% being recycled formally. The remaining 99% of the generated e-waste ends up in dump sites and waterways causing soil, water, and air pollution," Tracy said.
"The e-waste processing sector offers employment to young people in urban areas, mainly in Nairobi, but these jobs usually involve unsafe conditions, which harm both the health of the workers and the environment. To tackle these problems and make use of the economic potential of e-waste, there is a need to build the capacity of local institutions to professionalize and formalize skills development to train technicians with the right skills to process and manage e-waste."
Implemented by GIZ, the project has achieved "significant success in addressing environmental and health concerns associated with improper e-waste disposal, while creating employment and income opportunities for local youth," she adds.
The project has also addressed the improper disposal of e-waste, through establishing an e-waste collection centre at Meru University of Science and Technology, creating awareness of the need, as well as economic opportunities of proper collection and disposal of e-waste. The project has also strengthened existing local partnerships and the capacity of training institutions to improve skills development in the e-waste sector and foster employment opportunities for young Kenyans.
"The project's outcomes are significant not only for the immediate benefits to the environment, public health, and economy, but also for the long-term sustainability of the e-waste management sector in Kenya, making the project a model for successful and sustainable e-waste management initiatives globally," Tracy concludes.