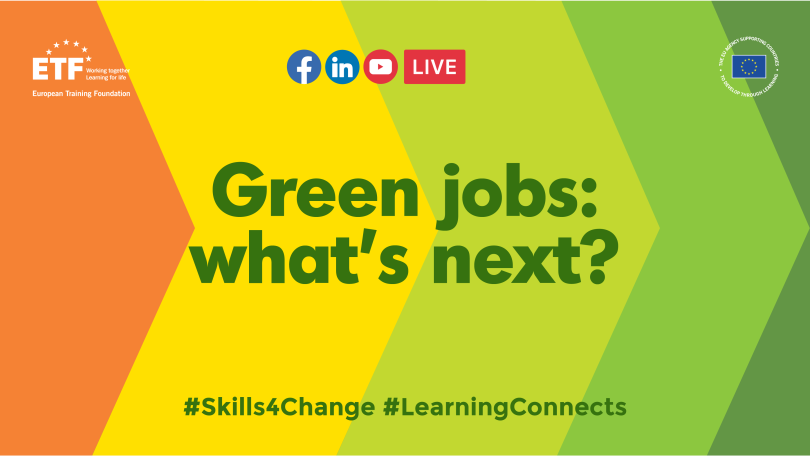 Transforming jobs into green ones is a priority for our future. What green jobs will arise in the coming years, and how we will be ready for upcoming opportunities, was the focus of this Friday's LearningConnect session, which was broadcast live on Facebook, LinkedIn and YouTube.
The webinar was titled "Green jobs: What's next?". The speakers were Olga Strietska-Ilina, Senior Skills and Employability Specialist & Work area leader Skills Strategies for Future Labour Markets, International Labour Organization, and Romain Boitard, Human Capital Development Expert, European Training Foundation.
The labour market has been changing fast over the past decade due to technological innovations, demographic shifts, climate change and globalization. Such transformative change prompted the UN's International Labour Organization (ILO) to launch its Future of Work initiative in 2015 to tackle these challenges.
Fast-forward to 2021, and such challenges remain, but with the added pressure of the negative economic fallout from the COVID-19 pandemic. "The ILO estimates that the world is facing unemployment levels four times worse than the last financial crisis (in 2008-9)," said Strietska-Ilina.
It is going to be an uphill struggle for economies to bounce back, even more so with climate change and ecological issues that are going to impact billions of people in the immediate and long-term.
However, a silver lining of the pandemic has been national economic recovery packages that target job creation to face more than immediate problems. This has created renewed potential for decent jobs in the formal economy that are also green jobs, said Strietska-Ilina.
The possibility of more green jobs and a more sustainable economy has been given impetus by the EU's Green Deal, which aims to de-carbonise the continent by 2050, and the USA including green jobs as part of its recovery plan.
"If we look at the theory and past economic models, they have brought much progress worldwide but also negative externalities, including income inequality. The future green economy must be an opportunity for social progress," said Boitard.
With green jobs "quite attractive to young people," said Strietska-Ilina, this can help alleviate high youth unemployment, which has been exacerbated by the pandemic.
"In the transition from school to work, green jobs can contribute a great deal. Attracting young people to traditional vocational jobs like plumbers of electricians is not very easy, but it's a totally different story if you say you will be a 'green plumber' or a 'green electrician'," she said.
The green transition will reshape jobs and how people think about them, but will also create new employment opportunities. "When we talk about the green transition, it is not just environmental specialists that are required, but construction workers, engineers, sales workers, designers. The policy idea is that any job can become greener, even in 'brown' (polluting) sectors," said the ILO specialist.
With the speed of transition required varying widely across Europe and among its neighbours due to different levels of economic development and exposure to climate related risks, the most marginalised are at risk in the fast changing labour market. To ensure a just transition for all, sustainable development is key to advance the three Es - environmental protection, social equity, and economic development.
"Sustainable development will not happen if one of these Es is missing, so we need to make sure all workers and students benefit from the green transition - and that includes people working in industries that are considered dirty," said Boitard.
What skills are needed in the future was the subject of a 2019 ILO report, "Skills for a Greener Future: A global view". The report looked into two scenarios based on surveys in 32 countries: energy sustainability— decarbonisation and a move to renewable sources —and a "circular economy" that promotes the recycling, repair, reuse, remanufacture and longer durability of goods.
The scenarios estimated more than 100 million jobs may be created by 2030 but 80 million could be destroyed.
"We don't have to lose those 80 million jobs though, we can create 100 million jobs and upskill and retrain people," said Strietska-Ilina. "We have to develop institutional capacities so countries can realise there are not only risks but huge opportunities brought by the green transition. In the short-run it may be quite painful, in addition to COVID-19 and the jobs crisis, but the employment generation is positive, and this should be brought to the attention of governments and the private sector," said Strietska-Ilina.
Life-long learning has a major role to play in the transition, enabling people to adapt to the changing environment through further education.
"Humans are not commodities, so we cannot direct people to different jobs even if they are more sustainable. We must safeguard employment in the long-term by focusing on individuals and not the jobs themselves," said Boitard.
With research still ongoing into definitions of green jobs, the skills required, and how training should be honed, the ETF is collecting good practices in its operational areas, said Boitard.
One initiative is the Green Skills Award for best practices in teaching and learning of green skills.
Launched in February, 11 out of 134 applicants from 39 countries were selected (voting is until 24 June).
Contenders include a Belarussian vocational training provider teaching new green technology, a Belgium-based EU network training vulnerable groups in sustainable e-commerce, an initiative to green the shipping industry in Albania, and an Italian start-up greening the textile and fashion industry through new curricula. The winners will be announced on 25 June at the ETF's week-long event on building lifelong learning systems and skills for green and inclusive societies in the digital era.
Boitard noted that all of the contenders had one common feature: they rely on networks of diverse actors to achieve their goals. "That is our plea to educators interested in this field, to develop their network and be a building block for success," he said.
The webinar was the last in the month's series on green skills. Next month's topic is on the future of education, to be broadcast live every Wednesday at 4pm CET.
Watch the full event here: https://fb.watch/5fvDEKpF1G/