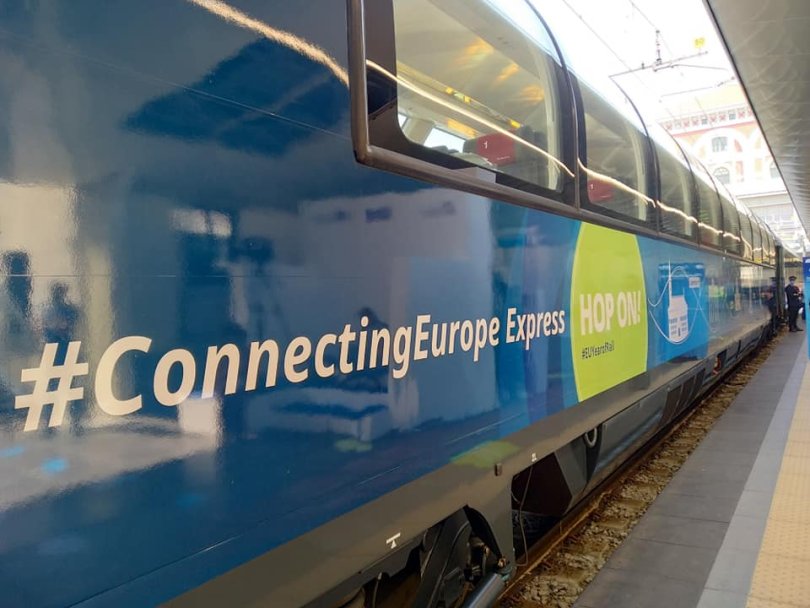 2021 is the European Year of Rail
Shining a light on one of the most sustainable, innovative and safest transport modes available, the European Commission has nominated 2021 the European Year of Rail. 
One of the many activities organised includes a special EU train which is criss-crossing the continent from 2 September to 7 October 2021, stopping in over 100 cities in 26 countries, including the ETF's host city, Turin. The #Connecting Europe Express is tracing the routes that bind Europeans together, connecting countries, businesses and people. It is showcasing the unifying force of rail. Its role is to inform citizens and help them understand the challenges that European rail has to overcome in order to become the mode of choice for passengers and businesses alike.
Today the train's arrival at the Porta Nuova train station in Turin is being celebrated by citizens, including high level Italian representatives and European Union officials respectively, amongst them Chiara Appendino, Mayor of Turin, Sabrina De Filippis, Director of Trenitalia, Mario Virano, Director General of TELT (Tunnel Euroalpino Lyon Turin), Harald Ruijters, Director of Investment, Innovative & Sustainable Transport of the European Commission, Iveta Radičová, Mediterranean European Coordinator, Directorate-General for Mobility and Transport of the European Commission, Marco Gabusi, Regional Councillor for Infrastructure and Transport of the Piedmont Region, Alessandro Morelli, Italian vice-minister for Infrastructure and Sustainable Mobility and Anna Rossomando, Vice-president of the Italian Senate, together with the ETF Director, Cesare Onestini. 
In support od developing skills in the rail sector the European Union is co-funding a four year programme through the Erasmus+ programme, Skill Training Alliance For the Future European Rail system, STAFFER, which is coordinated by the University of Genoa, Italy. The Staffer blueprint offers a framework for strategic cooperation between key businesses, trade unions, education and vocational training stakeholders and public authorities. The aim is to support an overall sectoral skills strategy and develop concrete actions to address short- and medium-term skills needs.
More information can be found from the European Union's Agency for Railways.