GRETA – Greening Responses to Excellence through Thematic Actions – is an initiative supporting the greening of vocational education and training (VET) as a response to the green and digital transitions. GRETA falls within ETF Network for Excellence (ENE).
The green transition concerns reducing carbon emissions, improving energy efficiency, and promoting renewable energy sources, while the digital transition involves the integration of digital technologies in society.
Skills for the green transition encompass technical knowledge and transversal skills, as well as knowledge, values, and attitudes that enable professionals to effectively use technologies and processes and make pro-environmental decisions in both their work and personal lives.
The greening of VET refers to the gradual process of aligning training practices, culture, and institutional operations with the principles of environmental sustainability.
For more information, read Greening of vocational education and training: Processes, practices and policies (ETF, 2023).
What is GRETA's approach to the greening of VET?
GRETA recognises that environmental sustainability is a cross-cutting issue that requires a holistic and integrated approach involving a range of stakeholders. 
It applies a whole institutional approach to the greening of VET, based on five dimensions to be addressed in greening efforts.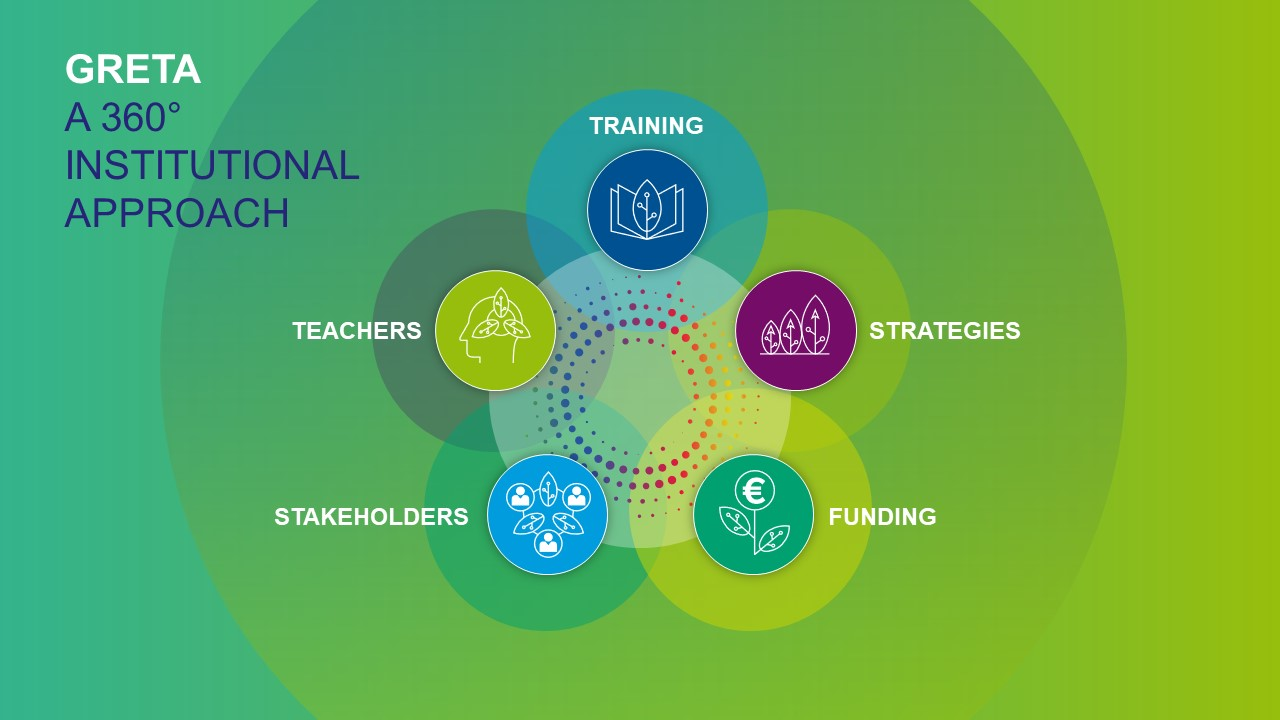 Training. Greening the curricula and training programmes is essential to provide learners with green skills for the labour market, and to change values and mindsets.
Teachers play a critical role in delivering education to students. Teachers' professional development is fundamental to ensure they have the skills to deliver high-quality green education. 
Stakeholders bring unique perspectives and resources contributing to the success of the green transition. Aligning skills delivery with regional and national green policies is included here.
Funding. Developing and implementing green initiatives, such as those related to the greening of curricula or teacher training, requires resources, for instance to acquire instructional materials or access relevant technologies.
Strategies. A systematic approach to the greening of VET requires the development of greening strategies. To develop such strategies, VET providers can define priorities, objectives, and timelines, for instance for the greening of their campus or to address the greening dimensions outlined above.
What are GRETA activities?
Peer reviews and analyses on the greening of VET and the skills implications of the green and digital transitions (thematic online sessions are open to all ENE members)
Formulation of actionable recommendations that can inform policy development and implementation
Systematic and structured approach to policy advice
In 2023/24, focus on key sectors, such as construction and energy.
For more information, join our online community on Open Space.