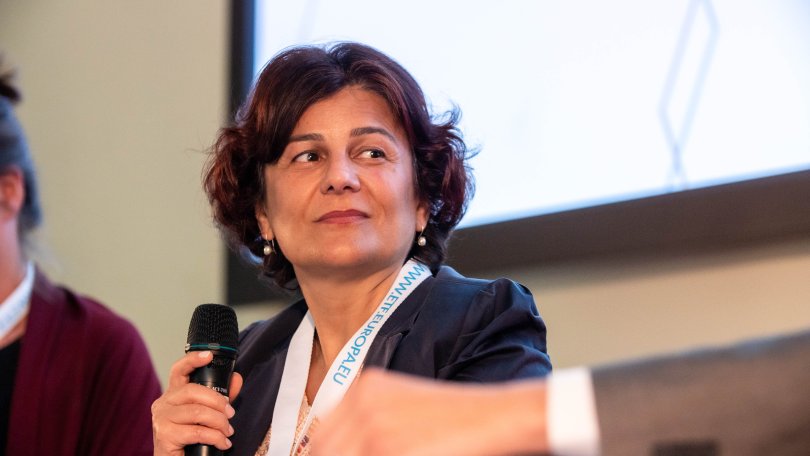 Who are the winners of labour migration? Insights from ETF expert, Ummuhan Bardak
In 2021, there were 23.7 million migrants in the EU, some 5.3% of the total population. According to Eurostat's first-time residence permit statistics in 2021, 20% of third-country nationals held residence permits for work reasons.
The ETF's Senior Human Capital Development Expert on skills demand analysis, Ummuhan Bardak, gives us some insight into the skills dimension of migration, the risks and opportunities, and conditions needed to ensure migrants, sending and receiving countries are all winners.
Over the past decade, there has been a steady rise in the employment of migrant workers in the EU. These workers have mainly been employed in sectors like accommodation and food, domestic and personal services, construction, transport, and agriculture. Increasingly, migrant workers are also undertaking roles in medium- and highly-skilled sectors such as healthcare, and information and communication technology, where the EU is experiencing skills shortages due to a myriad of reasons such as its shrinking and aging population, and skills shortages. Evidence shows that host countries benefit economically from migrant labour whatever their skill level.[2]
To make migration a mutually beneficial process for both the sending and receiving countries, it is important to recognise and use the qualifications and skills of migrant workers. Encouraging their participation in the labour market can lead to positive outcomes for all parties involved. By doing so, we can ensure that the process of migration is fruitful not only for the individuals involved but also for the countries involved.
Ummuhan Bardak explains:
"Although data on education levels and occupational profiles of migrants is virtually non-existent, it is generally accepted that the traditional skill profiles of most labour migrants to the EU have been at lower level until very recently. This is something both the EU and its Member States want to change, which is one of the agenda items in the European Year of Skills 2023."
The EU is seeking to attract high-skilled talent to fill skills gaps in specialised sectors, and indeed whilst the numbers of highly skilled migrants are increasing in the EU they are still inferior to those moving to other destination countries and regions around the globe (Canada, US, Australia, etc.).
Critically, Bardak highlights that the European Commission has no role in accepting migrants into the EU which is the remit of Member States. The European Commission is engaged in developing a Europe-wide migration policy and supporting the functioning of the EU labour market and its labour and skill needs.
"Not only is the EU seeking to respond to its skills needs, but it is obvious that immigration will continue to occur anyway and it is in everyone's interest that this is done more efficiently in a legal and controlled way, even if opinions vary throughout EU Member States on the best means to do this," Bardak adds.
The issue of attracting migrant talent is of course not confined to the needs of the receiving countries but is an issue of utmost concern to sending countries given that the departure of their most highly skilled citizens represents a loss of public investment and resources that might otherwise contribute and help grow the national economy and society.
This whole idea that one country is losing and the other country is gaining ignores the agency and needs of the individual migrant," asserts Bardak, "which should be core considerations of any policy efforts or actions to influence migration flow whether low or high skilled in nature." Individual desire for a good life could be as strong as state policies, so any migration story has three parties involved.
"'Brain-drain' can become an issue when the share of the highly skilled which are leaving is greater than those who stay behind and factors such as small and aging populations, longer duration of migration, sector-specific losses, instable socio-political situation can aggravate the situation. It is also difficult to prove given the lack of migration data by education and occupation levels," says Bardak noting that the term is highly politicized requiring caution in its use and interpretation.
As a recent ETF longitudinal econometric study in the Western Balkans illustrates ('Use it or lose it!' How do migration, human capital and the labour market interact in the Western Balkans?), the impact of labour migration varies according to the short, medium and long-term. In the first year there is an obvious exodus of highly skilled people that can be described as 'brain-drain', but after five years approximately half of these people will have returned with new knowledge and skills which benefits the home country. The main question the study tried to answer is what would have happened to these people had they not migrated?
The ETF did this by examining the functioning of the labour markets and how the education and training systems are responding to migration trends. What it found is that Bosnia Herzegovina, Kosovo, North Macedonia and Montenegro all had net migration from 2010 to 2021 with the majority having low to medium levels of education. Albania, however, had 40% of university graduates as emigrants, and Serbia experienced a 'brain-gain' by attracting high skilled individuals from neighbouring countries.
By looking at the labour market situation, the ETF observed a high unemployment rate, and underemployment and inactivity, especially of the highly skilled, for example youth unemployment in Kosovo is 49% and in Albania 27%, so it found that the alternative to migration is unemployment, underemployment and skills mismatch.
"Brain waste is worse than brain-drain," says Bardak, who led the study.
For this reason, one of the EU's New Pact on Migration and Asylum main goals regarding 'skills and talent' is to ensure 'fair and circular' labour migration. It proposes two tools working in cooperation with sending countries. The first is the setting up of an EU talent pool for skilled third-country nationals as a form of international recruitment through which skilled workers could express their interests and be identified by EU migration authorities and companies. The second tool is the launching of Talent Partnerships to help boost better job opportunities and international mobility through legal routes to the EU with interested third countries. For the latter there will be a greater focus on education to support and reinforce investment in local skills with the potential to promote more direct EU investment in local skills and increasing the existing skills pool.
Optimizing migration for all three parties to the migration experience – the individual, sending and receiving countries – can be a win-win-win experience.
More details on the ETF support for the skills dimension of migration can be found here
This article featured in ETF monthly newsletter Learning Connects No.13. Subscribe here.
Listen to Ummuhan Bardak on the ETF Skills Factory #23 podcast talking about brain drain and skills dimension of migration.
[1] See the list of countries: Situation Ukraine Refugee Situation (unhcr.org), Ukrainian refugees by country 2023 | Statista  
[2] See Migrants Bring Economic Benefits for Advanced Economies (imf.org), OECD Migration Policy Debates Numero 2.pdf