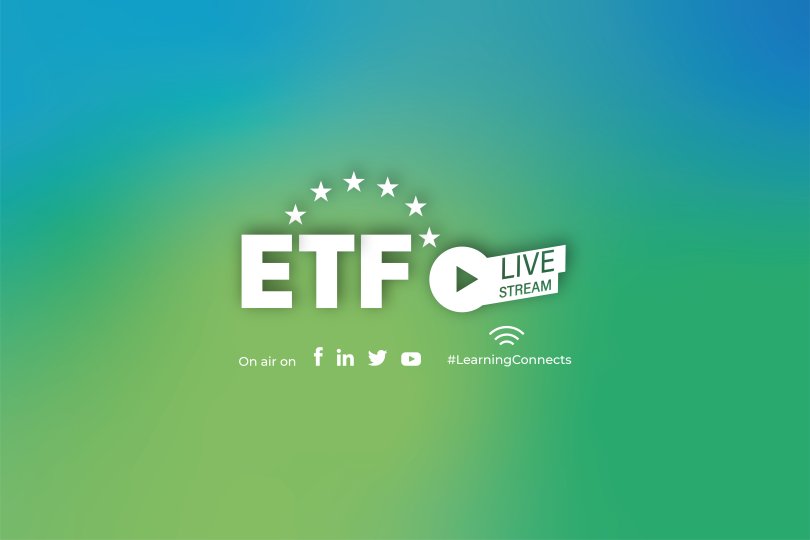 Understanding the non-formal learning
A dynamic conversation with experts took place during ETF's livestreamed event Wednesday 15th September on non-formal and informal learning. Anna Kahlson from the Swedish national agency for higher vocational education, Michel Aribaud, an expert in qualifications systems and training, and Maria Rosenstock, who supports validation of informal and non-formal learning in EU neighbouring countries for ETF, discussed with ETF's Maria Lvova Zolotarevskaya the differences between informal and non-formal learning, the validation process, and its benefits, and took interesting questions from a global audience. 
The difference between non-formal and informal learning was underlined, the first being organized learning outside the framework of formal education, while the latter is unplanned learning that individuals acquire every day on the job. 
Validating non-formal and informal learning is very important in a changing world in which keeping skills up to date and lifelong learning are becoming the norm. 
In Sweden, which has one of the best functioning systems for vocational training, Anna Kahlson said it was essential to recognise skills that have already been acquired and to set up a validation system. In Sweden there is a dual validation process, and the state works with industry sectors which are developing their own validation process. For an integrated system—that is, with formal education, one needs to make sure that non-formal and informal learning are "not a B pathway. The outcomes should be the same."
Michel Aribaud spoke of the importance of creating a bridge between the validation of non-formal and formal learning while the outcomes of informal learning should be made visible by assessing, recognising, and validating them. When he works with public authorities on developing a validation process on informal learning, he tries to design the project with them and begins by asking what their needs are, and how the process might be compatible with their current adult training system, and finally, to make sure the process will be accepted by all elements of society. 
In EU neighbouring countries, said Maria Rosenstock, there are many issues related to the recognition of these validations and their worth in the labour market. Moreover, in many countries the question must be asked if the quality of the formal education is even good enough? Formal education needs reform and must be labour-market relevant. Certain countries such as Turkey, have moved ahead not waiting for formal education to improve, and have chosen a parallel track to speed up the validation process. The challenge, said Rosenstock, is to change standards in the formal education system and have a common language between employers and individuals. 
Indeed, a member of the audience from Azerbaijan pointed out that non-formal training was not recognized by the government when job-hunting. 
Rosenstock said ETF is helping Azerbaijan on this issue and that pilot programmes are ongoing, but much work is needed so that experience and courses will be recognised by employers or universities. 
Another question from the audience was whether in time, formal education will lose its value by becoming less practical? 
Kahlson said she didn't think so. "We've had an adult learning system in Sweden for years and this has not made fewer people go through formal education. They are complementary." 
The topic of who should be paying for validation, the individual or the government was answered by the three experts:
Aribaud said that determining who pays for validation is closely linked to the qualification framework in the individual country, whether it's a free market system, or a state monopoly, for example. Also, depending on the stage of the process, validation can be paid by either the individual, or the state.
In EU neighbouring countries Rosenstock said the practice is varied. A validation system is expensive and there is little funding available to pay for it. Depending on the country, sometimes individuals will have to pay, although in Azerbaijan, for example, discussions are ongoing to use employment funds to cover the cost. In Turkey employers often cover the cost of validation. 
Kahlson said that in Sweden it depends on the purpose of the validation procedure. Because education is free of charge in Nordic countries, a validation process will be free of charge as well, the logic being that it will contribute to the overall productivity of the country. However, if an individual who is fully employed wants to take a course outside of their field, they will probably pay for the validation themselves. The Swedish government is currently involved in a pilot project creating a validation pathway. Prior learning is validated, and based on the result, an individual study pathway is designed. The fact that many people can validate competences they have already learned, determines that they don't need to train for certain skills. This means that the cost of education is reduced by half and that the state can therefore train twice as many people for the same amount of money. 
It's often difficult to involve individuals in the validation process as people don't like to be assessed, and often they'll associate the process with a formal system which may not have worked for them in the first place. 
Rosenstock believes that how the assessment is designed is important; it shouldn't be academic. Guidance mechanisms should be put in place to help people through a modular process. The ultimate objective is empowerment, which provides motivation, showing individuals what they know, and how to use their knowledge. Encouragement from employers would help and for those who are unemployed, public employment services or NGOs could be involved. 
Kahlson said that validation should confirm what people have already learned and not what they don't know. It's difficult to motivate individuals who haven't finished secondary school, she said, even if they are the ones most in need, because validation may look like it's another academic system. Iceland is a good example where they have been successful in this process. 
Clearly, judging from the inflow of pertinent questions from the audience, the topic of non-formal and informal learning is one that everyone is interested in. Anna Kahlson had a nice metaphor on the latter: the tip of an iceberg above the water represents formal learning, while everything one learns on the job is underwater, and still unseen.