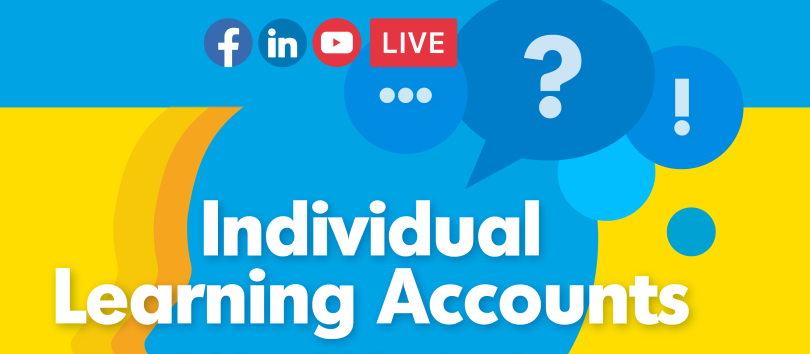 LearningConnects: Individual Learning Accounts
Following ETF's talk on non-formal education last week, this week the discussion continued around Individual Learning Accounts, or ILAs.
To understand what ILAs are and how countries and people can benefit from them, Georgios Zisimos, ETF's Head of Policy Advice & EU Programming Unit, and Xavier Matheu de Cortada, ETF's Head of the Knowledge Hub Department, talked with moderator Daria Santucci, also of ETF.
The concept of ILAs at the EU level is fairly new and a timely discussion has been ongoing over the summer with a policy document by the planning commission expected by the end of 2021. Although it has been clear for some time that individuals need to update their skills, what is new, said Matheu de Cortada, is the fact that we are facing a huge technological and demographic transition which needs to be inclusive, moreover we need to make sure this transition is green. People can no longer count only on formal education; rather, most people are updating their skills through non-formal and informal learning. For lifelong learning to become generalised, people need to be able to access quality training easily, and for the moment structural policies are still lacking. This is the case both in the EU and neighbouring countries where the need is even more urgent considering the small proportion of the population participating in continuous training.
The reasoning behind having individual accounts, said Zisimos, is to narrow the gap for access to training for adults. Individual learning accounts can try to address this gap by providing this access, improving employability but also giving people a sense of ownership when it comes to their personal learning. ILAs can exist in a variety of formats, depending on the country and the situation. In some cases, an account may be virtual. In others it can exist in a bank where resources are put aside for training. Or one might have a voucher. This may sound easy, said Zisimos, but it's a complex discussion which is testing the limits of systems both in financing and governance.
Matheu de Cortada said that policy makers need to consider the fact that upskilling works well with people who are already working within a company. But for people who are self-employed or even unemployed, access to training is more difficult. In OECD countries statistics show that those who benefit most from training are people with the highest level of skills and the highest incomes, while those with a lower level of skills don't benefit as much from lifelong learning. So how to attract and motivate the latter part of the population? Systems are being developed to validate self-learning and learning that takes place outside the boundaries of formal learning.
Circling back to the EU commission's discussion on ILAs, Zisimos said that the primary subjects that will shape the policy are first of all, context. Contexts are different in each country and measures can only be effective if used in the proper context. Then, to have a
a continuous VET system in place, the initial VET system needs to be good. Finally, new tools should not replace existing agreements or schemes, and each country needs to be able to shape their own approach.
Matheu de Cortada added that quality assurance should be available for training and that most importantly the cost of an improved system needs to be decided, considering governments, individuals, and in the case of developing countries, donors and investment banks. Making sure that systems are sustainable is critical to ensure that they will be lasting.