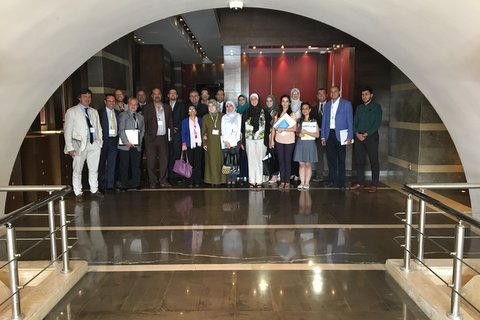 Jordan moving forward with MISMES
Jordan's Ministry of Labour has welcomed new ETF research mapping skills policy and support measures aimed at emigrants, immigrant workers and refugees.
Jordan's Ministry of Labour has welcomed new ETF research mapping skills policy and support measures aimed at emigrants, immigrant workers and refugees.
Speaking at a high-level workshop in Amman, the ministry's Hani Khleifat said a collaborative approach would further contribute to longer-term economic development.
'Jordan has given paramount importance for supporting migrants according to available capacity and resources,' the Director General Assistance for Training Affairs, Vocational Training Corporation, told participants, referring to the recent influx of Syrian refugees.
'The challenges are big and not one organisation can address them. We can improve the situation working together as partners. … and to implement these recommendations within a timeframe,' he said to stakeholders representing different ministries, public institutions, NGOs and key international donors, taking part in a workshop organised by the ETF, in cooperation with the Ministry and the EU Delegation in Amman, Jordan.
ETF expert Ummuhan Bardak presented new research that builds upon the global inventory of Migrant Support Measures from the Employment and Skills Perspective (MISMES).
The mapping identifies 35 MISMES that support skills development, job and skills matching for emigrants, foreign immigrant workers and refugees. The number of support measures is not exhaustive.
The majority, 23, are aimed at refugees (with a 30% quota of Jordanians from 'vulnerable' communities). Around half focus on soft skills, life skills and key competencies such as language, financial and market literacy. These MISMES are mostly funded by the international donor community, including the EU which is the largest contributor to the Syrian crisis response. The research recommends better coordination and efficiency to help avoid overlap of services.
Of the remaining MISMES, seven are targeted at foreign immigrant workers, with the aim to improve the working conditions of immigrant labour - a priority area identified by the government to attract more low-skilled Jordanian workers into these sectors.
Only five MISMES exist for Jordanian emigrants, which 'a strikingly low' number given the contribution of skilled Jordanians who return after a period of circular migration.
Looking forward
Draft recommendations include embedding more MISMES into a national system, with a special focus on local authorities and building a common approach to emigration and immigration.
Entrepreneurship initiatives are also identified as a development area with 'high potential' particularly for Jordanian returnees as well as refugees. More rigorous information collection, monitoring and evaluation of MISMES is needed to better plan and implement future measures.
Hamdan Yacoub, head of the Syrian Refugee Unit at the Ministry of Labour, described the research as 'excellent and fruitful'. 'We regard it as a good reference.'
Maha Kattaa, Response Coordinator Syrian Refugee Crisis, at the International Labour Organisation office in Jordan, welcomed the focus on the role of employers and promoting the entrepreneurial spirit. 'We should promote entrepreneurship as a means of self employment and regulations should adapt.'
On the issue of data, Daniela Cicchella of the Jordanian offices of the U.N. refugee agency, UNHCR, said there are opportunities to enhance the collection of information on skills. 'I am also really glad to see that refugees are also seen as a resource, not a burden to the community, studies like this can enhance the workforce and economy in Jordan,' she added.
Abdelaziz Lyamouri, from the EU Delegation in Jordan, thanked the ETF for 'very great and important work in the area of migration.' 'This research provides a very important view and perspective for enhanced Mobility Partnership between the EU and Jordan.'
His colleague, European Migration Liaison Officer, Jean-Francois Puel, urged participants to submit good ideas that could be implemented as projects in cooperation with EU Member States in the area of skills and migration.
The ETF will now work with stakeholders to finalise the research and publish the full report.