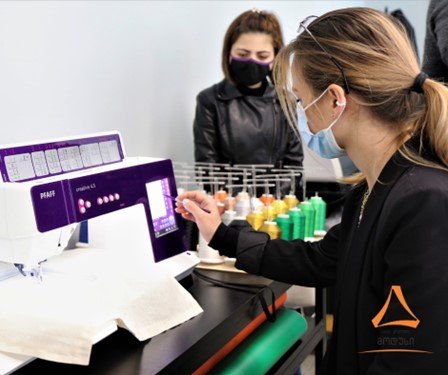 Innovative technologies in professional education, Georgia: Finalist of Innovative Teaching and Learning Award 2022
Fabulous Innovation in Georgia: Fablab Modusi
Rustavi is a big industrial city with plenty of scope for vocational graduates from the local state-funded college Modus to move into work. The 'Fablabs' project is one of 14 established in Georgia, and the one at this college is seen as the most successful. In nine short months its manager, former-student, Lela, has done remarkable things. In fact, so remarkable, that she now manages and advises the other Fablabs across the country.
Fablabs was established by the Ministry of Education and Science of Georgia with the support of the Innovation and Technology Agency and supports the establishment of new start-up businesses and job creation. The college director at Modusi, Nina, tells us that for her, "the main goal of this programme is to support students and teachers, to motivate them to start their own businesses …and to develop entrepreneurial skills."
Within the workshops, club members share ideas with each other and under the direct guidance of Lela, experiment with prototyping ideas in 2D/3D software programs and working with modern equipment. The resource open to everybody; students and teachers alike can come to Fablab and develop their technical skills, but also allow their creative entrepreneurial spirit to flourish. The youngest student is 15 and the oldest, in her 60s, is one of the college's automotive mechanics teachers. She is making printed 3D models to demonstrate to her students how cars work.
Designing their own futures
Lela and Nina tell us about one of their most successful outcomes for the project. Using the expertise gained at Modus, ex-garment production students created a start-up - InoFashion. Their exquisitely designed, smartphone-charging luminous bags were created. They have managed to get funding from enterprise Georgia which is a state supported programme and this helps develop their business and buy equipment. With the kickstart needed from Fablabs they are well on their way.
Other students are using the extra-curricular support of Fablab to learn how to use a sensor embroidery machine to decorate national clothes, and through 3D and laser equipment, students create accessories such as bags, earrings and bracelets. Electrical engineering students actively participate in providing lighting systems for models created in the lab.
Challenging assumptions about tech
Whilst some of the younger students are easy to motivate, other students are less so, particularly those from programmes who don't necessarily see the connection between, for example, gardening or well-being and technology. Lela explains that initially they have no idea about creative work and prototyping ideas. Fablab gives them the opportunity to widen their imaginative scope and to work in an innovative way. Nina, the college director, sees these students as being "the changemakers in their profession."
Lela tries to raise awareness about how technical and entrepreneurial skills will also benefit all students in their future careers, but she has to think creatively about how to bring these students in. One of the ways she has done that is through collaboration with other Fablab managers across the country, and some healthy competition. Thematically inspired national contests such as 'Creative Lights Competition', 'New Year Village' and 'Easter Competition', which involved 10 colleges, are one way to motivate and have fun. The students' creations were subject to a judging panel and winners were given certificates and small gifts. Lela is really promoting joined up thinking across the country.
Hybrid Learning
If necessity is the mother of invention, the pandemic gave Lela an opportunity to invent. Students were not motivated to attend online learning because, she explains, in general, vocational education tends to be hands on. So Lela invited the vocational teachers into the Fablab and helped them improve their computer skills through delivering their lessons online; for example, welding students who would have attended sessions in college, studied 3D and 2D programmes at home. When they were able to return to college, they could prototype the ideas that they had developed using 3D printers.
Widening the benefit
Rustavi is the industrial centre of Georgia and graduates move into jobs in the metallurgical and chemical industries. Employers value Modus students because they know they will have good technical skills, and Fablabs ensures they learn a range of soft skills too, such as problem-solving and the communication skills developed in collaborative project work. Nina is enthusiastic about the impact Fablabs is having on her college and the wider community. She explains that it's not easy to track outcomes, but they keep a database of alumni so they can follow their career paths once they leave college. Both local employers and ex-students are encouraged to make use of Fablabs and college programmes, and tours are regularly organised for employers, in order to showcase the resources.
Building the network
Nina has big plans for the college. In fact, next year Fablab will move into a new building with more space. The college is actively seeking funding from different donors to buy more equipment. She says "we see that it works, is popular and other colleges across the country can see it as a model." She has even been asked to give classes to people from the City Hall.
The team are aware that the success that they're having is not necessarily replicated across the country. In some areas of Georgia it is difficult to find the human resources needed, and although young people are interested, they do not necessarily have teachers or managers who can work with the equipment. But having the enthusiastic support of Lela as the national manager, full of creative ideas, is bound to see other Fablabs going from strength to strength.