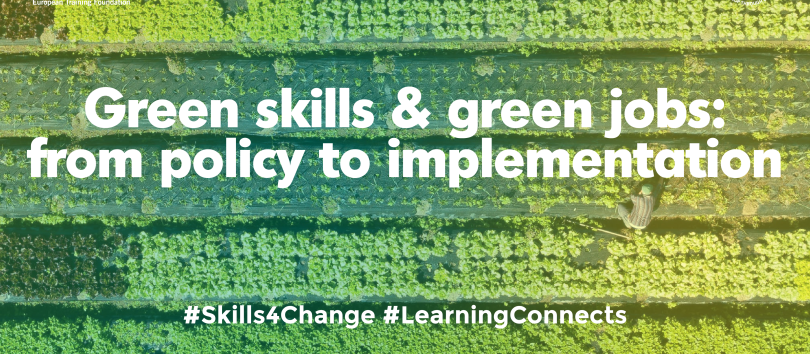 Green skills and green jobs: from policy to implementation
How global actions to green society, especially The EU Green Deal, impacts lives, jobs and education was the focus of this Wednesday's LearningConnect session, which was broadcast live on Facebook, LinkedIn and YouTube.
The online interview was titled "Green skills and green jobs: from policy to implementation". The speakers were Frank Siebern-Thomas, Directorate-General for Employment, Social Affairs and Inclusion, European Commission; Daniele Cesano, CEO, ADAPTA Group; and Xavier Matheu de Cortada, Head of the Knowledge Hub Department, ETF.
Climate change, environmental degradation and related pressures on the labour market were challenges that required strong policy responses before the COVID-19 pandemic took precedence as the top global challenge.
The EU Green Deal was announced in December 2019, and a climate law in March 2020, just as the pandemic started to spread around the world. The Green Deal aims to turn climate and environmental challenges into opportunities, and make the transition just and inclusive for all.
Over a year on from the deal's launch and the global spread of COVID-19, climate change has resurfaced as a top and interconnected priority, with the Green Deal a core part of the EU's economic recovery strategy from the pandemic.
"The focus of the Deal has not changed and, if anything, is more important now than before. There are lessons to be learned, as for many this time (of the pandemic) has been lived differently. One benefit of living differently is that it makes it more realistic, or credible, to consider building back better, and for a new way of doing things," said Siebern-Thomas.
Cesano, who is also a regenerative farmer, producing organic tropical fruits on a 10-hectare agroforestry farm in Brazil, said the restrictions the pandemic imposed on people made him think about the future. "Isolation will be the norm in 50 years unless we find cleaner ways to fly, or we will need to make decisions to stop international flights. And the number of hurricanes may outpace the reconstruction of roads. So for me, these worst case scenarios are a push to work harder and make changes much faster," he said.
There has been greater urgency in global policy-making over the past month. In April, the EU reached a climate deal – to reduce carbon emissions by 55% by 2030 and be carbon neutral by 2050 – ahead of the USA's virtual summit on climate change with 40 world leaders on Earth Day (22 April), which led to further commitments on top of the Paris Climate Agreement.
At the practical level, the ETF's Matheu said strategies were being turned into reality. "The Green Deal agenda is increasingly guiding all EU policies, through the New Skills Agenda to the Osnabrück Declaration," he said.
In July 2020, the EU presented the European Skills Agenda, which lays out a 12-point action plan to enable the transition to digital and green economies (an update of the 2016 agenda). In November, the EU's Osnabrück Declaration on vocational education and training (VET) was inked, while the European Education and Training Area is to be further developed.
"The Green Deal is key to making new jobs, and in partnership with others around the world.

To make it work needs reskilling, upskilling, and compensation for people that lose their jobs," said Siebern-Thomas.
The disruption to education caused by the pandemic also needs to be considered. "Coming out of the pandemic, a challenge will be to deal with the potential effects of the disruption to education and scarring, and how to integrate into the labour market and be greener," he said.
The EU Green Deal is to require €1 trillion to fund the economic transition, with €279 billion to come from the private sector. A further €100 billion has been allocated for retraining and upskilling workers.
"The plan is to mobile private funding and define what is meant by the (European Bank for Reconstruction and Development's) just transition fund, for coal mining regions in particular," said Siebern-Thomas.
With EU policy considering climate change to be a global challenge, support is being extended beyond its borders to improve training and bridge the skills gap.
"There is an internationalisation of training, and of using good examples from Europe and elsewhere. We should have better cooperation with countries and areas around the EU to have mutual learning and improve together," said Matheu.
Asked about real-life green jobs, Matheu highlighted the Green Skills Award for best practices in teaching and learning of green skills. Launched in February, 11 out of 134 applicants from 39 countries were selected (voting is until 24 June).
Contenders range from an Italian start-up greening the textile and fashion industry through new curricula, to a Turkish vocational school raising awareness on the impact of online learning on the environment by learning coding, and a vocational education centre offering green energy curricula for refugees in Gaza, Palestine.
The winners will be announced on 25 June at the ETF's week-long event on building lifelong learning systems and skills for green and inclusive societies in the digital era.
Cesano called for awareness of the ecosystem's cycles – the water cycle, carbon cycle and nitrogen cycle - to be "applied and embodied" in all schools, universities and the work place.
"We should always be aware that we are living in a living system. This practical approach needs to be taken into account in how we train people," said Cesano.