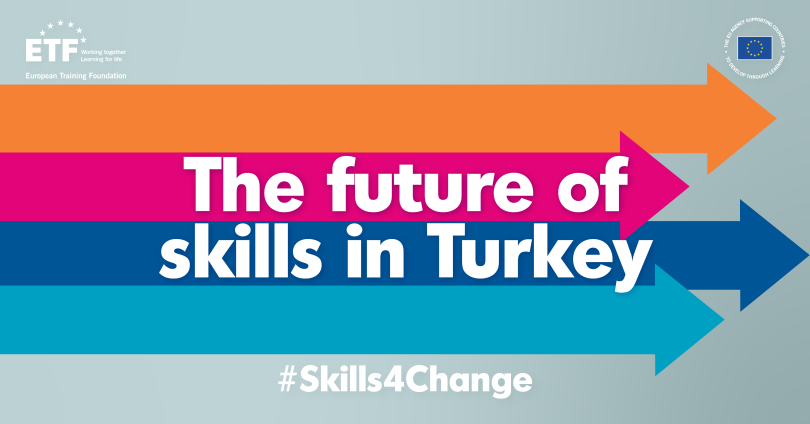 The future of skills in Turkey
The European Training Foundation (ETF) has recently published a case study on the future of skills in the automotive sector in Turkey. It is one of a series of studies looking at how the demand for skills is evolving under the impact of technology and other global drivers of change in different economic sectors in the ETF's partner countries. The others focus on platform work in the Eastern Partnership, the agri-food sector in Morocco and the agri-tech sector in Israel.
The Turkish study is part of a broader effort of the ETF – in cooperation with the Turkish Government, the European Union, the European Bank for Reconstruction and Development (ERBD) and other national and international partners and stakeholders - to support Turkey in adapting to fast changing skills needs in different sectors of its economy, with a focus on inclusion. It recently published a joint study with the ERBD on "Inclusive skills for innovative enterprise development in the aftermath of COVID-19 in the agribusiness sector", and collaborated on the definition of a €8.8million technical assistance project co-funded by the EU and the Republic of Turkey on "Promoting Decent Future of Work Approach with a Focus of Gender Equality."
Motor vehicle production is important driver of Turkey's economy relying on a strong links of trade, investment and technology transfer with the countries European Union. Following the publication of the case study, the ETF spoke to Albert Saydam, the newly elected president of TAYSAD, the umbrella organisation for automotive suppliers in Turkey, about the fast pace of change in the parts sector, while Ebru Dicle, secretary general of the industry and business association TÜSİAD, gave us a macro view on the evolution of skills across the Turkish employment market.
Mr Saydam, congratulations on your new role, taken up in the midst of the global semiconductor crisis. TAYSAD has an ambitious goal, of placing Turkey within the global top 10 countries in automotive supply by 2030. What needs to happen to achieve this goal?
Our current status is 14th and there are many European countries on that list such as Spain and France. For that to happen, first the local market must grow and there must be more local car manufacturing. For that we must attract new investments in car manufacturing, both from the existing manufacturers and complete greenfield investments; the supply industry will follow. Second, we have to increase sales. Turkish suppliers have a very good performance both locally and in the close geography, mainly in Germany. To enter the top 10 we have to become more global – not only to have local sites but to be close to the customer. I do not mean in Europe but in North America, South America and the Far East.
How are digital innovation and green energy changing your industry and its skills needs?
One of the most important points in our agenda is the Green Deal. People are saying this is a kind of barrier for sales in Europe to increase the competitiveness of EU countries. That's not important. The aim is important, the content is important. If the goals declared in the Green Deal are the only path for sustainability in general for our earth, then we have to follow it. We also want Europe, the EC, the EU, to be fair and to encourage and support us in this path. Turkey is a big country and there are different manufacturers, different grades of manufacturers, so I hope that we can help the non-fulfilling manufacturers in terms of the Green Deal without affecting the competitiveness of the companies who are already fulfilling the requirements. Our motto for TAYSAD for the next two years is Providing Smart, Environmental and Sustainable Solutions, so that means whatever you are asking is within our strategy and within our two-year plan.
What are you doing specifically to help this happen?
We want to establish a new centre, not just a learning centre but a kind of small campus where our members can see the new technologies, can have on the job training there and it can also be a platform to meet startups. We have contacted Fraunhofer Institut to help us define the details of that centre. Everyone is talking about electrification and everybody is saying that is changing the automotive industry but when I ask our members "Have you ever seen a battery complete knock-down on the field and on the floor?" they say no. We are just talking – we don't know which parts are used in this electric car. So, in our centre, we want to have one electric car and one car disassembled so our members can evaluate the parts and they can see the changes in the product portfolio or the parts portfolio.
With the way things are changing will some of your members either have to cease production or completely change what they produce in order to carry on? Is it that difficult?
Yes, it is. Turkey in general is very strong and very qualified in adaptation to change. But right now, the changes that we are talking about are so dramatic there will be no adaptation – either you do it or you are out! So we are trying to not only convince but to encourage our members to follow the changes: to re-evaluate their strategies and their investment plans but also the skills that their people have. Because the change has already begun.
How big is the skills gap? Are people not leaving education with the rights skills and companies having to do a lot of retraining themselves?
Let's imagine even if they have the right skills: the change is so rapid, within a certain year they are already out of date, so they need a continuous update on the skills. Having said that, it's a fact that the current schools and universities are unfortunately not up to date, and this problem is not confined to Turkey. Most of our members are asking for training for all new graduates, engineers, technicians, etc.
What training do you provide?
All kinds, starting from IATF16 949 which is a quality system for automotive to some specific welding training, even online. During the Covid times in 2020 we had 170 courses for different member companies and more than 6,500 people attended these. We are also working with universities to define which courses they should offer, and our members are giving these courses. Secondly, we have started a social responsibility project where our members provide equipment to vocational schools. It started seven years ago, and we have now reached vocational schools in 81 cities in Turkey! This way students can not only learn theoretically what an instrument is used for, but they can also touch, see, and use it. Some of our members have donated completely new CNC equipment and engines. Lastly, we have programme called 20,000 Career: in the old cars there used to be 20,000 parts in a vehicle and there is a need for 20,000 graduates to come to industry for the new automotive investments in Turkey. We are going to universities and explaining to them about the Turkish automotive industry, because they know all the car manufacturers, but they don't know the supplier industry because we are not advertising our products and companies.
Are opportunities and interest from women in entering this industry growing?
I think the Turkish automotive industry is well above the average of Turkish industry in terms of opportunities for women. We have a ratio of 18% of the workforce and that is growing, but also the roles are changing. For example, in my company, Tekno Kauçuk, the chief systems officer is a woman, and we have many women as general managers, so not just HR or training managers or CFOs. It is changing and it must change, like electrification.
What are the fastest growing skills that a young person should target if they want to work in your industry?
I will not mention one skill, but I will mention one approach – specialisation. I am from a generation where general engineering or business administration were among the most promoted skills. Today students have to specialise, independent from their field or subject, because if they can't specialise, they cannot differentiate themselves from the huge crowd they are now in.
That is very interesting, because what I'm hearing from a lot of people is that it's all about transversal skills, that you need to have a whole keyboard full of skills to shine in a competitive employment market.
Time will tell who's right and who is wrong. Change is there and change is always there, but I do see that in my daily life. Of course, you must use your computer, you have to be open to new technologies, you have to have a degree of mathematics – I don't say forget everything else, but you have to select one thing that you are able to specialise in.
-----------------------------------------------------------------------------------------------------------------------
Ms. Dicle, what are Turkish companies doing to increase their competitivity, especially in European markets?
Supply chains are generally shifting westward. Beyond its geographic location, it is now much more important that Turkey possess a stable economy and a qualified workforce. New factors such as climate change, renewable energy and the circular economy will be important criteria in guiding international trade in the coming period. Updating the Customs Union to include the digital economy and the Green Deal should be a priority. This provides us with a new opportunity for the development of the EU-Turkey economic partnership.
What are the main recruitment challenges for Turkish companies?
About a third of young people are neither in school nor employed. Skill mismatch is a major problem in the labour market. Both quality academic and vocational systems of education are critical to ensuring a lifelong development of skills and to overcome the mismatch. It is also necessary to instill innovation, research, digital skills into the education system to prepare people for the jobs of the future. We should provide more opportunities for quality internships to help facilitate a smooth transition of young people into the workforce.
How is the growing focus on protecting the environment affecting the job market (eg. green energy, electric vehicles, packaging)?
There is a "conscious" transformation in creating a sustainable world. The pandemic has also underlined this urgent need. More and more people, company and countries are considering Sustainable Development Goals in their decisions and these developments will have repercussions in Turkish labour market as well.
Are automation and digitalisation creating more unemployment, or is there room for everyone to upskill?
Although low-skilled jobs have been automised with digitalisation, this process brings about new jobs that require creative and high-quality employees. Our initial focus should be investing in reskilling and upskilling to get prepared for new arising jobs. The important thing is to ensure that the opportunities created by digitalisation to be more than what is lost, and to reach the negatively affected segments with the right social policies. For this purpose, it is essential to improve our collaborations among the public sector, private sector and civil society.
Are you seeing a rise in the number of women entering STEM professions? Are there any specific programmes to encourage this?
According to WEF Global Gender Gap Report 2021, the STEM attainment rate in Turkey is 26% for men whereas it is 14.2% for women. It is necessary to raise awareness of the STEM-related careers and promote participation in STEM studies, notably among women. Our member companies develop such projects encouraging women to study and work in STEM professions.
What importance do recruiters in Turkey place on social and emotional (SEL) skills, and how are these evaluated (by testing, or simply by interviewing?)
The human resources departments have already realised that there are certain jobs robots simply can't do and social and emotional skills are still needed in the digital transformation age. The pandemic has also revealed that we need these skills to adapt to the "new normal". In a workplace culture based on diversity, people from different backgrounds, gender, religions and nations have to work in the same place or in digital environments. Self-managing teams, a continuous learning environment, and intensive cooperation with internal and external stakeholders require strong SEL skills. In addition to tests and individual interviews, group interviews focusing on case studies can also be used in the recruitment process. In TÜSİAD's recent project on Social and Emotional Learning, HR specialists also proposed that business and the education sector could collaborate on developing SEL training programmes