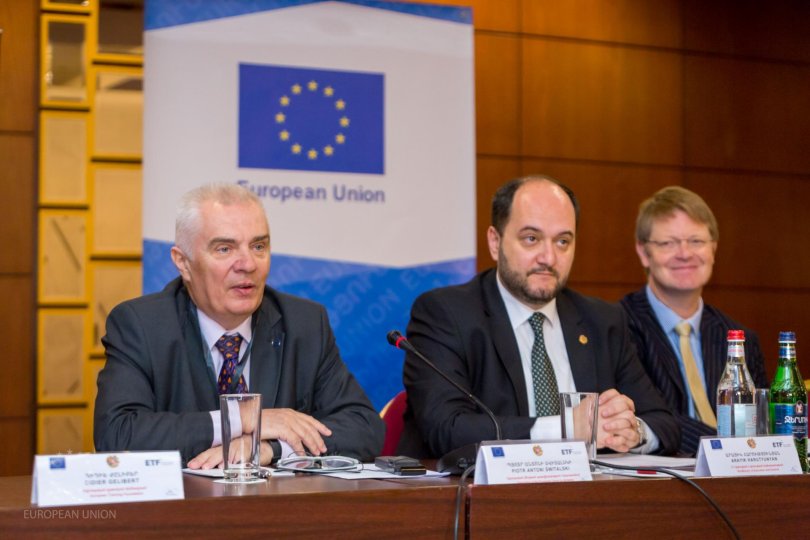 EU and Armenia for better education reforms
The EU Delegation to Armenia and the European Training Foundation, the EU Agency in charge of supporting countries in the EU neighbourhood to undertake reforms in education and labour policies, have presented today in Yerevan the latest developments in EU and Armenia cooperation for better education reforms. The event marked two key steps towards progress of the EU and Armenia cooperation in the field of education and training systems reforms:
The European Union Delegation to Armenia launched the EU-Armenia policy dialogue on education in the framework Comprehensive and Enhanced Partnership Agreement (CEPA) and the Five Year Government Programme and the Education development strategy for Armenia.
The European Training Foundation launched the new cycle of the 'Torino Process' (2019-20), a periodic assessment of progress in modernising skills development in EU neighbouring countries.
Commenting on the event, Cesare Onestini, ETF Director, said: 'As a new industrial revolution unfolds globally, education and training systems face a common challenge: how to equip citizens with the skills needed to be resilient and fulfil their potential. In such challenge, collecting data is key to determine the needs of the future job markets, and launch appropriate education reforms. Through the new 'Torino Process', the EU and Armenia unfold their cooperation to prepare the next generation to raise above the challenges of the present, and harness their potential to contribute to inclusive growth and stability'. 
Background
Now at its 5th edition (2019-20), the 'Torino Process' is an initiative of the European Training Foundation. It is a periodical assessment tool used by countries bordering the EU to measure the effectiveness of reforms in countries' education and training systems, in a lifelong learning perspective. Armenia has been using the 'Torino Process' since 2010-2011 showing, despite relatively low expenditure on education, an overall high educational attainment. However, public spending is still low (7.3%) in vocational education – the pathway towards better employability.
The EU-Armenia policy dialogue is an initiative of the European Union expected to allow the EU to follow closely the preparation of future reforms and strategies in the Education field.