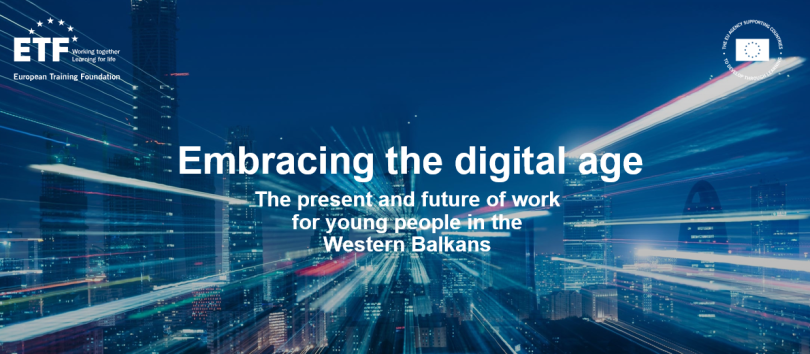 Embracing the digital age
The online event Embracing the Digital Age: The Present and Future of Work for Young People in the Western Balkans presented the findings of "a recent study focused on the impact of digitalisation on the world of work and application for young people" in the region, as Xavier Matheu, Director ad interim of the European Training Foundation (ETF) put it in his opening remarks.
The COVID-19 pandemic accelerated trends toward greater "digitalisation and increasing labour flexibility," Matheu said. "Young people take up those opportunities, opening new markets and new ways of work [which can offer] an alternative to migration." But new forms of work can be plagued by "the inherent volatility of contractual relationships and issues of quality and inclusiveness." Nevertheless, "new forms of work are becoming an important source of income, a place to use and develop skills, and a way to harness entrepreneurial potential."
The online debate explored policy responses that "support sustainable growth" in this realm, according to Anna Banczyk, Deputy Head of Unit "Future of Work, Youth Employment" in the European Commission's Directorate-General for Employment, Social Affairs and Inclusion.
Held on June 7, the event attracted 350 participants from the region and beyond.
Report findings
Technological advancements and digitalisation bring new employment dynamics that challenge standard full-time employment on multiple fronts: augmenting remote work or so-called teleworking, fostering short-term and flexible working arrangements and increasing the number of casual or project-based labour contracts.  Technology-driven labour platforms that match customers with workers-service providers are gaining foothold. Platform work takes two forms: remote work, performed online, and on-location work through apps, where goods are services are provided in a particular place (e.g., ride hailing or delivery services).
The study was designed to help design the Youth Guarantee, a collaborative scheme involving the European Union and Western Balkan to address the needs of young people not in employment, education or training (NEET) in the region. "We focused on the implications of digitalisation on the organisation of work and possible changes and priorities for the education and training systems", said Iwona Ganko, Labour Market Expert, ETF. "We focused primarily on how to build on opportunities and how to mitigate challenges."
Ugne Pilkionyte, Researcher, PPMI (Public Policy and Management Institute), outlined the study`s methodology and conceptual framework. Researchers drew upon both qualitative and quantitative data. They included interviews with national and regional experts – notably policymakers, platform workers, platform owners, and legal or labour market experts. They used big data, "automated data collection analysis [which] included web scraping of global freelancing platforms." This helped them build profiles of workers, identify trends, and analyse the participation of people in different categories, e.g., by gender or age. Finally, they sent out a stakeholder survey that received over 200 responses.
Tanja Jakobi, Executive Director, and Branka Andjelkovic, Programme Director of the Public Policy Research Center (Serbia), shared the duties of presenting the report's main findings. Though the pandemic accelerated the trend, countries like Serbia and North Macedonia were already "recognised both globally and in Europe as very strong providers of online digital work," Jakobi said. Probable explanations for this include poor job opportunities, the ability to make more money, and flexible working conditions. Remote workers tend to be good with soft skills, which are essential for that kind of endeavour. At the same time, many people work informally. Very often, even working formally, workers are not entitled to traditional labour rights and social security. Platforms do not offer career prospects. The learning of new skills is left to the workers themselves.
Remote workers in the region work with big global brand-named platforms as wells as more focused ones, e.g., for teaching English, said Andjelkovic. The most prominent occupations for remote workers in the region are those involving information and communications technology (ICT) and creative skills. When it comes to numbers, North Macedonia has made significant strides in recent years. Albania has also experienced important increases.
As for age, most remote platform workers are between 25-35; their on-location peers tend to range from 25-40. "It means that many people actually do have some [prior] working experience," she said. Many students start their work experience through labour platforms. Most people in both groups are well-educated, with higher credentials among remote workers. Remote workers are almost exclusively self-employed; on-location workers display a range of relationships, from standard jobs to self-employment.
"Workers love this work because of both the better pay and the more flexible working arrangements," she said. On the downside, "The biggest threats or weaknesses are the lack of social protection and labour rights," she noted. Platform work has reduced unemployment and allowed people to develop skills, often offering an alternative to migration and brain drain. Yet further growth is hampered by inadequate digital infrastructure in most countries. Better regulations and policies are needed.
Platform work in the European Union
Platform work has grown fivefold over the last five years in the EU, Banczyk said. And the trend is expected to continue. Most of these people are genuinely self-employed, but some are misclassified employees. New forms of work create opportunities, but they can also be precarious or pay less than the minimum wage. In December the commission presented a proposed directive that would have three objectives: (1) ensure proper job status classification; (2) increase transparency, including for cross-border transactions; and (3) "promote the transparency, fairness and accountability in algorithmic management." Commission officials are working with the European Parliament. They hope to have a new regulatory framework in place in the next year or so.
For policymakers in the Western Balkans, Banczyk suggested they start by trying "to map the labour markets" to better understand who is working through the platforms and discover "the actors who could, including what she called "social partners."
Policy responses
Amira Ramhorst, Team Leader, Regional Cooperation Council (RCC), ESAP, discussed an RCC study of youth unemployment in the Western Balkans completed last year. It included what she called "six policy roadmaps for the introduction of the Youth Guarantee" in the region. The Council has forged partnerships with ETF and the International Labour Organization (ILO).
While rates differ among countries, the average NEET figure for the region stands at 20%, well above the EU average, reflecting "a challenge" in the school-to-job transition. "One interesting finding," she noted, "was that as the education attainment increases, the NEET rates in some economies increase."
One RCC initiative, the Youth Lab, works with young people in countries such as Albania and North Macedonia to address these issues. "We're offering a space where we co-create policy solutions together with youth and Western Balkan policymakers," she said.
Georgios Zisimos, Head of Policy Advice and EU Programming Unit, ETF, focused on data and policy advice. He asked, "How do you combine them, especially in today`s fast changing environment."  Historically, in training, curricula used to change every 10-15 years. Now some schools change every two years. And not only in terms of curricula. "The notion of career guidance has changed," he said. "It is based on shifting labour market conditions and requisite skills development.  When you're talking about policy advice, these pieces need to be connected on the ground," he said.
Klajdi Priska, Policy Officer & Project Coordinator, National Youth Congress of Albania, called attention to two important initiatives not otherwise mentioned beforehand. First, digital nomads. Albania wants to attract location independent professionals, often young people, from other parts of the world to install themselves temporarily in the country. The presence of these individuals helps locals "to get training much faster than through the traditional educational system," he said.  He also revealed discussions with international partners about "transforming the Western Balkans into a Silicon Valley of Europe."  He said, "This might seem far from reality, but if you were in on the discussions we have had, I believe that you would understand."
Miloš Vučković, a young journalist who also works at the Serbian NGO, Centre for Emancipation Policies, related his experience as a bicycle delivery person. Notably, following an accident in which he was knocked off his bike, he discovered that he was not insured.  "I had a bad experience," he said. "But I've seen lots of young people during these difficult times, with the pandemic, the economic crisis, and the war in Ukraine, who are actually earning money that they couldn't in the regular economy."
Manuela Prina, Head of Skills Identification and Development Unit, ETF, summed up the proceedings by outlining three lessons she learned from the event: (1) precarious employment is not "decent"; (2) policymaking is important, especially because there is tension between flexibility and regulation; and (3) readiness is important to adapt to the changing environment.