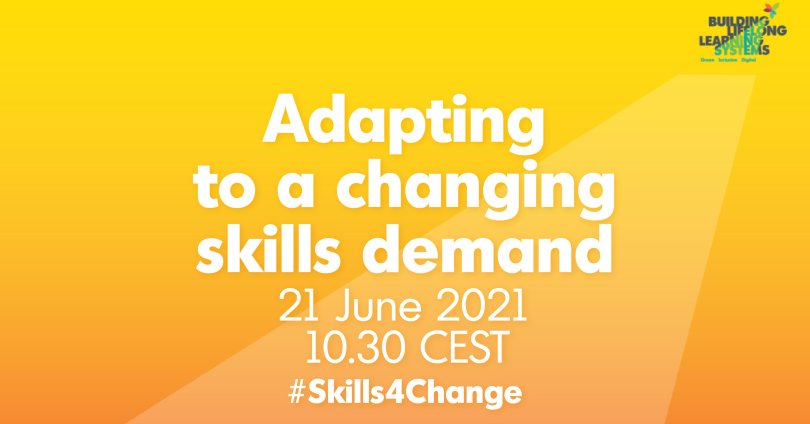 Building lifelong learning – Adapting to changing skills demands
Skills have become synonymous with change, as drivers of and responses to the transformation of societies and economies worldwide. New skills can catalyse innovations that lead to change, and can help people, companies and countries to adapt successfully to change. It stands to reason that education and training systems are of central importance to progress in today's world. 
What new skills are needed to cope with, manage and actively direct change? How can education and training systems best identify and support the development of new skills sets? These and other questions crucial to personal and national development will be explored at an European Training Foundation international conference being held virtually from 21 to 25 June 2021.
"Individuals need to be empowered. Empowering involves putting in place systems and giving people the right tools to make decisions, says Iwona Ganko, ETF labour market expert. "We want to build links between the individual level and the system level. 
She is leading the conference's first thematic session on "Adapting to a changing skills demand". Priorities, policies and guidelines will be drafted to guide ETF partner countries in the European neighbourhood – but they will be relevant to a global audience, especially developing countries.
The conference is organised by the ETF and UNESCO in collaboration with UNICEF, and is titled "Building lifelong learning systems: Skills for green and inclusive societies in the digital era online". Its objectives are: to reflect on experiences in transforming education and training systems into lifelong learning; and to confirm priorities for future human capital development cooperation against a backdrop of global challenges such as COVID-19.
The open access session will debate global trends and how countries, public sectors, private companies, people, and education and training systems change in response. The pandemic illustrates powerfully the role of skills in change – educators and learners had instantly to learn new skills as schools switched from face-to-face to online learning and companies to remote work.
Backdrop
All countries are affected by global trends that are transforming societies, economies and the world of work, although the nature and intensity of transformation differs, points out a session Concept Note.
"The EU political agenda focuses on a fair transition to a digital and green economy, while enhancing economic resilience and ensuring social justice. Investing in people's skills stands out as the best safeguard in this transition, which requires greater flexibility, resilience and agility." 
The transition to a new world of work must be both human-centric and tech-centric. Jobs are changing, with routine tasks being automated or replaced by artificial intelligence. New jobs, new forms of work, new skills and new ways of living are emerging. 
There is a shift towards less predefined job categories with broader skills needs and work that taps into the unique potential of individuals. "People will need to become worker-learners in a rapidly evolving landscape. With multiple and longer careers, life-long learning will be crucial."
Heterogeneous skills portfolios, wider sets of skills and multi-disciplinary profiles that also combine technical and soft skills, are gaining attention. The EU has created a framework of key competencies: literacy; multilingualism; numerical, scientific and engineering skills; digital and technology-based competences; interpersonal skills and the ability to adopt new competences; active citizenship; entrepreneurship; and cultural awareness and expression. 
"Digital literacy and the ability to understand and apply technology to practical solutions is becoming a must across all jobs and all sectors, as well as life outside work. Environmental awareness will also need to become a core skill, alongside digital skills, as every workplace and job has the potential, and the need, to become greener," says the Concept Note.
Rapid change can generate skills gaps and fuel growth of an alternative workforce, as businesses bridge the gap with freelancers, contractors and consultants. "Learning to learn, entrepreneurial and career management skills are becoming increasingly important to boost resilience and the ability to adapt to volatility."
New skills and trends
There are new skills appearing, and new skills sets and portfolios are required in order for people to deal with a more flexible working environment. They include strong digital, self-organisation and career management skills. It is important to identify new skills combinations that are needed. 
The COVID-19 pandemic has sped up remote work. "Now there is an even stronger trend towards freelancing and providing services, rather than being employed for life by one company. Remote workers and the self-employed must organise their workplace, schedules and calendars, and their work."
Recent ETF research on the future of skills has uncovered interesting trends – for instance, in agriculture linked with automation and digitalisation. Today, a farmer may also need digital skills to operate advanced production processes and marketing skills to sell products externally. 
There has been a substantial move to the platform economy in Eastern Europe, with economic and social activity facilitated by digital platforms – primarily information and communication technologies  frameworks.
In the energy sector in Albania, the public sector is leading the way. "It's a rare case of such strong policy undertaken by governments." At the EU level, strategies for the green transition and the digital transition also indicate a growing role for the state in these areas.
"Our key messages will not come from a vacuum, but from documented developments in partner countries – with a global perspective," says Ganko. There is a need to systematise information, and to put structure and reflection into it.
A strong focus on people
Information is not always easy to produce and disseminate, and people are receiving information from multiple fronts, making it difficult to digest. There is a lot of confusion around jobs, skills and labour markets, and young people especially need better support and information on which to base decisions and chart futures. 
It is important that the international community and policy-makers see a person, says Ganko. "Our ultimate objective is to  support people in the countries we work with.
In today's world, individual agency is key. Responsibility is being shifted from companies and governments to people, who are becoming more and more often in charge of managing their careers, finding information that is important to know, and identifying and acquiring the right skills.
But public authorities and systems must support individuals. The session will build links between people and public authorities. It will agree key messages that will be debated by policy-makers and the international community, and will be drafted into guidelines for the future of work and skills. While people are at the coalface of change, to unlock the wealth that they contain requires an innovative structure of education and training to help develop new skills.