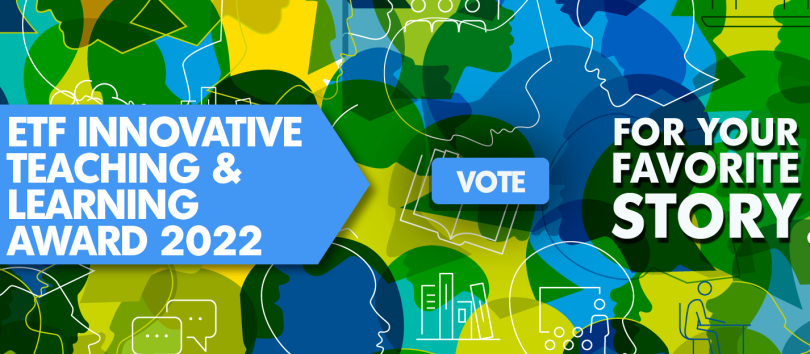 ETF Innovative Teaching & Learning Award 2022
In July 2022, the European Training Foundation (ETF) opened a call to collect examples of good practice in the area of innovative teaching and learning. The call aimed at identifying teaching practice that supports new learning and that can serve as inspiration for teachers, trainers and policymakers in the EU neighbourhood and beyond. 
We received around 800 applications from 50 countries all over the world.
An international jury has selected the 10 most innovative finalists whom you can read about below.
The vote is closed now.
Training at School, Safety in the Workplace

–

 Turkey

STUDENTS LEARN SAFETY AT WORK USING VIRTUAL REALITY
Why is it important?
Sadly, Turkey ranks above European Union (EU) countries in terms of fatal occupational accidents, even though it has the same Occupational Health and Safety (OHS) standards. Specifically, 80% of occupational accidents occur due to people's own errors, 18% to physical and environmental conditions, and 2% to unexpected events; meaning that most accidents can be prevented. However, traditional teaching methods mean that many students leave school without having assimilated the knowledge necessary to avoid occupational accidents.
---
Context
When Adem Kaplan graduated from Ankara's Gazi University Department of Electrical / Electronics Teaching he could have taken a high-earning job in industry, but instead he decided to return to the same vocational education and training (VET) school in Sivas where he went himself.He loved the school and felt passionate about continuing in the same field and helping to give students a better future.
Teaching occupational health and safety is mandatory in all Turkish vocational training schools, but traditional teaching methods left students aged 14–18 both bored and unmotivated. So, Kaplan applied for and won an EU grant to establish an Augmented Reality (AR) and Virtual Reality (VR) laboratory for OHS training at his school. Classes begin with students being provided with technical information, which is followed by them being 'placed', via the VR glasses, in one of four scenarios: (1) on a construction site, (2) at an electricity sub-station, (3) a high voltage pole, and (4) in a workshop with a 360º perspective. Learning is consolidated because of the stimulating pedagogy and the visceral response to the scenarios.
Beyond the 200 students and eight technical teachers at Sivas Vocational High School who are receiving the training, Kaplan has also offered the classes to 100 employees in electrical enterprises operating in the city. And as soon as is possible his project will be extended to all teachers and students at Sivas VET high school, any workplace linked with Sivas Chamber of Electricians, and every vocational school in the vicinity.
To learn more: https://europa.eu/!PdMP39 
Using Adventure Games to Unlock Student Learning Potential – MOROCCO
 
STUDENTS LEARN BETTER IN ENGAGING LEARNING ENVIRONMENTS
Why is it important?
Keeping language students engaged using gaming creates a fun learning environment and helps students to feel secure in the classroom.
---
Context
Egyptian Arabic Language and Literature Professor Fatma Abdelfatah Mohamed has had an incredible journey teaching at the American University in Cairo, the University of Miami and top Institutes in California and, among other things, has taken advantage of her travels to experience local gaming rooms and glean ideas for her current project. Now as an Assistant Professor at Al Akhawayn University in Ifrane, Morocco, she has had the chance to put her ideas into practice on various innovative language courses.
She currently teaches Arabic to native Moroccans on two literature courses, but also has a non-native group from Germany, Italy and the US.  One of the ways she achieves success with her students is through blending creative physical and online games and puzzles in an Escape room. She conjures up evocative atmospheres using traditional clothes, rousing scents, expressive photos and items from different Arab countries. The ticking countdown clock makes students more enthusiastic and work closely in teams to escape the room before the time is up. Mohamed has developed drama scenarios from her students' own textbook stories, which drives them to feel empathy towards the main characters and more eager to save them, which further inspires them to solve the puzzles to escape the room.
While her aim is to create fun in learning, she emphasises the importance of students always feeling secure in the environment. The empowering aspect of her methods is that it puts students in control and allows them to explore radically different avenues. These methods, while fairly commonplace in countries like the US, are unusual in Morocco.
She is inspired by the results of her creative games for language learning and has given presentations at numerous international conferences and published papers on technology-enhanced learning and electronic Arab literature.
To learn more: https://europa.eu/!dybhHC 
---
  STEM Stands Together

–

 Turkey
 
STUDENTS PARTICIPATE IN A STEM CLASS IN TURKEY
Why is it important?
Science, technology, engineering, and mathematics (STEM) education has become very popular lately and in this innovative practice, STEM is used as a common language among students who don't know each other, making friends in the process. 
---
Context
Computer scientist Dr Selçuk Yusuf Arslan has been chosen as Turkey's Extraordinary Teacher of the Year three times and was a finalist in the Global Teacher Prize, but he came within a hair's breadth of quitting teaching at the start of his career. Sixteen years later, he is still working at Ankara's Ataturk vocational and technical high school and says he could never change his work.
However, it is in his use of STEM classes to break down barriers that he has most recently made his mark. Specifically, he asked students to learn about mathematical angles through internet research, and then gave a class on the BBC Micro:bit, which is a micro-controller that can be programmed, for example, to power a mini servo-motor to move a hand from 0 to 90 degrees. Beyond learning about angles and coding, students helped each other and demonstrated excellent teamwork. The project involved sixteen students, eight from Turkey and eight refugees from Afghanistan, Iran, Iraq and Syria. As a result of working together, real friendships were formed and barriers broken down.
In a robotics class last year Arslan's students also raised their environmental awareness by developing a sensor, which they put in the sea to measure humidity, temperature and water pollution, and then presented their results to the appropriate authorities.
Arslan is committed to expanding the workshop to other school departments such as agriculture, manufacturing and printing, and he is constantly seeking to develop new initiatives. He also recognises the need to continually reinvest in his own learning. His next goal is to take his research on STEM education and Sustainable Development Goals one step further by doing a post-doctorate. He attaches great importance to his personal and professional development and he is clearly passionate about teaching and learning.
To learn more: https://europa.eu/!VttqdP 
---
 Theatre to strengthen ICT learning

–

 TUNISIA
 
HUMAN RESOURCES STUDENTS BECOME MORE ENGAGED THROUGH THEATRE
Why is it important?
In recent years, students at Tunisia University seem to be experiencing a lack of motivation and a decreased ability to concentrate. 
---
Context
Computer science engineer Dr Hedia Mhiri Sellami is clear about the challenge facing teachers at Tunisia University, and that is how to best engage students.
But Sellami is a highly-driven teacher who clearly likes a challenge, and so in the academic year 2020/21 she decided to find a way to enthuse her master in human resources' students to help them study and assimilate the information and communication technology (ICT) material they needed. Specifically, in groups of three, they had to write a theatre play related to the module being taught. They were also told that 40% of the marks would be for their script and 60% for their performance.
One of the advantages of this innovative approach to teaching is that it requires nothing more than some tables and chairs. However, that didn't stop students from adding a few theatrical flourishes. Both the theatre play and song-writing approach can be used by teachers in any course.
According to 70% of the students, the presentation of the play allowed them to better assimilate the course content. Overall, 100% of students found the experience beneficial both for their technical as well as for their soft skills.
To learn more: https://europa.eu/!F6XwPX 
 Escape room, education games

–

 SERBIA
 
GAMING MAKES LEARNING COME ALIVE
Why is it important?
Nowadays, most students are capable of using technology in ways that seem mysterious and incomprehensible to most adults, especially teachers. Today's students can adapt to the use of modern technology in the classroom much faster than a teacher or a parent can. But there is always the question of how effectively students use technology for learning.
---
Context
Serbian Katarina Veljković has used her lifelong enthusiasm for playing both real-world and virtual games to make her programming classes come alive for her students. One of the tools she has found particularly effective is the use of Escape rooms in the virtual world of Minecraft. In total, she has developed seven scenarios with her more skilled students, and shared them with students in other schools. Around half-a-dozen primary schools in her hometown of Kragujevac are now using her innovative Minecraft scenarios, as well as many others throughout the country.
One of the tasks, for example, which is of great importance for children, is to learn how to stay safe in a digital world. In a Minecraft Escape room especially designed for this activity, students explore a space and learn how to distinguish desirable from undesirable online behaviour, and how to react correctly when they encounter inappropriate content or unknown people online.
By using technology in the classroom, teachers can help develop the skills necessary for their students' work and life in the 21st century. These skills include digital literacy, collaboration, problem-solving, creativity, innovation, research, and analysis.
To learn more: https://europa.eu/!GB4FbK
---
 innovative technologies in professional education

–

 GEORGIA
 
FABLABS FOR DEVELOPING TECHNICAL SKILLS
Why is it important?
The 'Fablabs' project supports teachers and students across Georgia in vocational education and training by enhancing the development of their technical skills, at the same time as supporting their creative and entrepreneurial skills to encourage them to start up their own businesses. 
---
Context
'Fablabs' is a project implemented in 14 colleges across Georgia.  Established by the Ministry of Education and Science of Georgia, with the support of the Innovation and Technology Agency, the project aims to support students in vocational education and training by enhancing the development of technical skills, at the same time as supporting their creative and entrepreneurial skills.
The 'Fablabs' project at the Modusi college in the industrial city of Rustavi is seen as the most successful and the college director, Nina, develops programmes that support job creation and the establishment of new start-up businesses.  Activities at the college enable students to experiment with 2D/3D software programmes, use modern equipment such as 3D printers and laser equipment, and improve their computer skills.  Working across many sectors including automotive, textiles and engineering, the 'Fablabs' project promotes the implementation of modern technologies within the framework of professional programs and empowers students to think creatively, challenge assumptions and experiment with changes.  Equally important is the development of soft skills, such as problem-solving and communication skills, essential when participating in collaborative project work.
Recognising the importance to collaborate with local employers and to develop close contacts with the local labour market, tours are regularly organised for employers to visit the college and see the programmes firsthand. 
To learn more: https://europa.eu/!96CyCX
---
 Development programME for Export Consultants – UKRAINE
EXPERTISE AND LEARNING FOR EXPORT CONSULTANTS
Why is it important?
To develop and implement a training programme for export consultants in Ukraine to enhance the efficiency and internationalisation of Ukrainian businesses.
---
Context
After the 2014 attack from Russia, Ukrainian businesses needed to refocus their exports from Russia to other countries and it was identified that there was a need for a short and efficient training programme to train export consultants across the country.
Anu runs a private educational organisation in Estonia, OÜ Turundusprof, and it is her passion for Ukraine that resulted in the development of the 'Export Consultant Training Programme'.
The challenge was two-pronged – make trainees into successful consultants, and train groups across very disparate fields.  The programme was developed, and across 10 regions in Ukraine small groups of participants worked with local companies for a month – mostly in a sector outside their area of expertise. This intensity required teamwork and a focus to get results fast.
There was a diverse membership on the training programme, including the Chamber of Commerce, industry, state administration and business. The trainers and mentors also had a range of backgrounds from tutors in international business and a journalist from the BBC, to experts in marketing, sales and logistics.
The programme required trainees to watch videos and absorb material created by the tutors, and then immediately apply their learning and confidently face real clients, with an export plan. The approach included gamification and the different groups would regularly meet to share expertise and learning.
This team-based approach was very innovative and pragmatic, requiring the trainees to implement their learnings immediately in order to construct export consultancy plans which met the companies' export needs. Furthermore, combining two skillsets into one program meant that participants gained a fast-track experience in developing their consultancy skills.
To learn more: https://europa.eu/!npVMwf
---
 Teaching ESP through real-life project participation

–

 KAZAKHSTAN
 
TRAINEE TEACHERS WORKING COLLABORATIVELY TO PRODUCE EDUCATIONAL PRODUCTS
Why is it important?
An innovative project which supports pre-service and trainee teachers from across Kazakhstan to develop, manage and launch online, English-language educational products and e-resources, providing a particular focus on young people from vulnerable backgrounds.
---
Context
Yuliya, an Engineering graduate, with an MA in Translation Studies and another in TESOL, is working with trainee teachers who work with school students to produce English educational products and resources. With the sponsorship of the US Embassy, this project challenges 'traditional' teaching practices by getting pre-service teachers from across 15 different cities to work collaboratively to produce online products that can be sold for a shared E-currency. The trainee teachers learn how to start their own project, manage it and launch it while learning appropriate vocabulary in English.  The activities include team building and problem-solving in which the trainee teachers need to analyse, compare, contrast and construct an online course or an e-resource.  The outcomes and online educational products will be showcased a year from now at a fair where everyone can spend their E-currency (opencoins.kz) and invest in what they want to learn.
Innovative project ideas include speed reading techniques for exam preparation, a 'big book of activities' that primary teachers countrywide can access for their pupils, or a 'big shopper' bag with environmental slogans on it. Another project focuses on vulnerable teenagers to help them find quick and easy solutions to some daily challenges.
In the past, teachers would work within the confines of their own cities, but now, with this first-of-its-kind project, trainee teachers are realising the benefit of collaborating and learning from each other.
To learn more: https://europa.eu/!CMcWhG
---
Zoom Youth Unemployment

–

 Bosnia and Herzegovina
 
FILMS TO HELP YOUNG PEOPLE INTO WORK
Why is it important?
A project aimed at supporting young people and keeping them motivated during their journey from school to work.
---
Context
Finding ways to support young people in the tricky transition from school to employment is never easy. 'Zoom Youth Employment', a programme that Ranko Markuš, Youth Employment Project's team leader calls 'one tiny fragment' of an overall project, the aim of which is to develop better practice in Bosnia and Herzegovina, focuses on improving attitudes and mindset among young people about work, and in teaching them a range of job-seeking skills.
One of the topics they decided to focus on was career counselling. Markuš explains that nationally, Public Employment Services (PES) were in charge of career counselling, and whilst this worked well in terms of expertise, from a logistical point of view, and operationally, it didn't really make any sense. At that time students were getting patchy and one-size-fits-all generic career information day, without real counselling. The service had been focused mainly on city centres, and not really on those in need, as PES staff had limited transportation. He estimates that up to 80% of young people had no input at all, as they lived in rural or remote areas. Even those in cities, where they had better access, would just have one day of lectures a year. Markuš explains the turning point in getting attention for the idea in parliament, came when a politician who had grown up in a rural village noted that nobody had ever visited him from the PES when he was a school leaver.
Zoom Youth Employment works in two ways. The first is methodology: the idea is to change the mindset and help young people see the human perspective and motivate them through real stories. The second is to then help young people build the practical skills they need to get work (for example, CV writing, interview skills and other soft skills). In 2015, in collaboration with the film festival Pravo Ljudski ('Real Human'), the project team developed the topic of the festival so it was related to employment and social policy issues. One of the movies at the festival, the French documentary 'Les Règles du jeu', followed several disadvantaged French adolescents in their journey into work. They picked some of these real stories and scenes from the film, used them as a stimulus for the materials, and the curriculum was developed.
To learn more: https://europa.eu/!tyfY6D
---
Cell-Aviv: Tel Aviv in Cellular Mobile technologies for lifewide learning

–

Israel

DEVELOPING STUDENTS' TECHNOLOGICAL AND SOFT SKILLS TO CREATE TOURIST ITINERARIES 
Why is it important?
This innovative technology project sees students create itineraries and information for tourists to Tel Aviv to explore places of interest, as well as the cultural and geographical heritage of the city. This multi-disciplinary project has supported the development of the students' technological skills and has encouraged the development of soft skills, enabling the two groups of students to work together and find new ways to communicate.
---
Context
The project, titled Cell Aviv – 'Location-based learning using mobile technologies' has been implemented by the Amal High Tech Peres School Tel Aviv since 2013 (former Shevach moffet) and is a collaboration with the city's Onn School, a specialised school for students affected by cerebral palsy and other complex disabilities. The project led by Rafaella Ballas, brings together teachers, developers and students, and aims to integrate students into society and underscore the integral part they have to play in their community.
The lifewide learning project is based on three principles: location (moving outside the classroom to learn in real-life situations), community (giving and contributing to the community) and flexible learning (transforming the role of teachers). Students and teachers create location-based interactive learning material to characterize the special places located in their community. The places are selected by the teachers to cover specific subject areas of the curriculum, and the material created by the students is made available to the entire community in the form of tourist itineraries. The project has been effective in showing how technology can extend the learning environment for students of all abilities and has given students the opportunity to be creators rather than passive users of technology. The interaction between the students from both schools has facilitated and encouraged the development of soft skills, enabling the two groups of students to work together across the age and ability ranges, finding new ways to connect and communicate.
The content created by the students is constantly available to the public and has been integrated into a tourist interface. All content is public and can be accessed on a map.
To learn more: https://europa.eu/!v8THdF