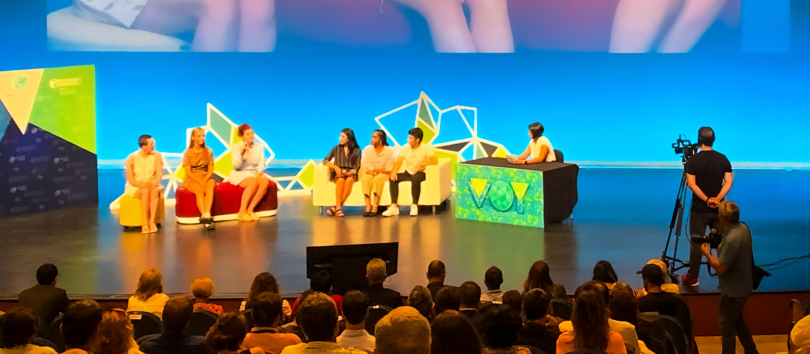 The 2022 TVET Congress: Youth in Focus
With more than 1,000 delegates from around the world and dozens of sessions and discussions tackling a variety of topics, the Congress 'TVET Excellence for All'  is one of the most prestigious international events on vocational education and training (VET) in the calendar. This year, from 15 to 17 June, representatives of the ETF's Network for Excellence were present and provided key inputs to the discussions.
Organised by the World Federation of Colleges and Polytechnics (WFCP) and TKNIKA (Basque VET Applied Research Centre), the unique international event included practical workshops, and the ETF facilitated several of them to provide participants with insights into different approaches to VET excellence and internationalisation, the role of international self-assessment tools, key research needs on vocational excellence and how to run award processes for Centres of Vocational Excellence (CoVEs). In addition, the ETF also provided updates on its ongoing work to support Ukrainian vocational education and training (stakeholders, schools and students) during the current crisis in the country.
"The event is timely and was an extremely important opportunity for learners, especially young people, to sharpen their skills and get up to date with the latest trends in the area of vocational education and training." 
said José Manuel Galvin Arribas, Coordinator of the ETF's Vocational Excellence Project, and one of the facilitators of the sessions organised during the event.
Throughout the two-day event, activities included multiple discussions on issues such as partnerships, skills development, social inclusion, digitalisation, artificial intelligence, employability competences, post-pandemic labour markets and the future of work.
An international youth camp was also on the agenda, designed to engage professional and technical education students in relevant discussions and debates on the position and role of students in professional and technical education globally. It also helped to get the voices of young people heard at the main event, connect young people from across the globe and enable them to experience other cultures, an initiative considered to be one of the highlights of this year's edition.