A new and ambitious European Neighbourhood Policy
Year/Date: 2011/05/25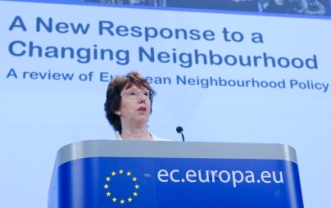 Catherine Ashton, EU High Representative for Foreign Affairs and Security Policy and Štefan Füle, EU Commissioner for Enlargement and Neighbourhood Policy, launched a new and ambitious European Neighbourhood Policy (ENP) confirming the EU's determined and reinforced engagement with its neighbours.

The proposal by the European External Action Service and European Commission to Member States and the European Parliament, sets out the main priorities and directions of a revitalised ENP strategy, which seeks to strengthen individual and regional relationships between the EU and countries in its neighbourhood through a 'more funds for more reform' approach—making more additional funds available, but with more mutual accountability.

The document entitled A new response to a changing Neighbourhood recognises the dramatic transformations in the countries surrounding the EU.
'The overthrow of long-standing repressive regimes in Egypt and Tunisia; the ongoing military conflict in Libya, the recent violent crackdown in Syria, continued repression in Belarus and the lingering protracted conflicts in the region, including in the Middle East, require us to look afresh at the EU's relationship with our neighbours.'

To better respond to the changes, on top of the €5.7 billion already allocated for the period 2011-2013, additional funding of €1.24 billion has been transferred from other existing resources, and will now be made available in support of the ENP.

'With so much of our neighbourhood in a process of democratic change, this review is more important than ever. It is vital that we in the EU make a comprehensive offer to our neighbours and build lasting partnerships in our neighbourhood,' Ms Ashton said.

'This partnership with our neighbours is mutually beneficial' reads the new document. 'Sustainable economic development and job creation in partner countries benefits the EU as well. Likewise, managed movement of people is positive for the entire neighbourhood, facilitating the mobility of students, workers and tourists, while discouraging irregular migration and human trafficking. Active engagement between the EU and its neighbours in areas such as education, strengthening and modernising social protection systems and advancing women's rights will do much to support our shared objectives of inclusive growth and job creation.'


Find out more
A new response to a changing Neighbourhood: Joint communication to the European Parliament, the Council, the European Economic and Social Committee and the Committee of the Regions