Eastern Partnership Summit in Warsaw
Year/Date: 30/09/2011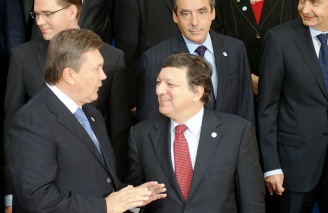 The Eastern Partnership, an EU initiative that supports reform in the partner countries, has four "platforms": the first concerns democracy and the rule of law; the second - economic cooperation; the third –energy security; and the fourth – people to people contacts, including education and culture.

'We are active mainly in the area of economic cooperation,' says Arjen Vos, who heads the ETF's operations in Eastern Europe and Central Asia. 'But ETF experts are also involved in various fora of the people-to-people platform.'

SME development

In 2011, the ETF joined the project that assesses policies on small and medium-sized enterprises (SMEs) in the countries of the Eastern Partnership. This project is led by the European Commission's Directorate General for Enterprise and Industry in cooperation with the European Bank for Reconstruction and Development (EBRD) and the OECD.

Within the project, the ETF contributes its expertise in the area of entrepreneurial learning and enterprise skills. 'The overall aim is to stimulate SME development in the countries of the Partnership,' says Mr Vos.

Employment policy review

Another example of ETF engagement is the Black Sea Labour Market Review, a regional policy review concluded in 2010. It covered employment policies and their socio-economic contexts in Belarus, Ukraine, Republic of Moldova, Georgia, Armenia and Azerbaijan. The findings of the study fed into the programming of European Commission activities in the region.

Ageing populations and continuing education

In 2011, the ETF started a new project that aims at improving opportunities for lifelong learning in Eastern Europe. 'With a declining demography,' says Mr Vos, 'the countries must start thinking how they will retrain their ageing workers to satisfy the demands of the labour market.'

Mobility partnerships

In Georgia and the Republic of Moldova, the ETF provided support to mobility partnerships, focusing on the skills-dimension of mobility. In particular, it enabled the knowledge and experience related to the recognition of prior learning of returning migrants to be shared amongst policy makers.


About the EU's Eastern Partnership

The EU's Eastern Partnership was launched in May 2009. It concerns six partner countries in Eastern Europe and the Southern Caucasus: the Republic of Armenia, the Republic of Azerbaijan, the Republic of Belarus, Georgia, the Republic of Moldova and Ukraine. Through this initiative, the EU supports reforms in the partner countries that are aimed at consolidating democracy, the rule of law, respect for human rights and an open market economy. At the same time, it offers gradual integration into the European economy, greater mobility for citizens and closer political ties. Over the period 2010-13, approximately €1.9 billion is allocated in the framework of bilateral and regional programmes to support the implementation of this initiative.

Tweets by @etfeuropa